These little mushrooms are usually part of an Italian antipasto platter, they are a wonderful accompaniment to cheeses, glossy black and green olives, sun-dried tomatoes, ciabatta, marinated artichokes and cold meats like prosciutto and salamis. You don't have to be assembling an antipasto platter to enjoy these though. Often we will have them as part of a light meal beside thick slices of cured ham or chicken with green salads in the summer.
They are vinegary, spicy mushrooms with the aroma and flavour of the herbs magically able to break through the stronger spicing. This pickle is both exotic and very rustic.
These unassuming little mushrooms have quite a bite to them. People that are unfamiliar with these will often be quite surprised by them. If you can find small button mushrooms they are the best ones to use for this.
Unfortunately when I went to the store they all seemed to be a little on the large side, so I had to slice these into quarters when I really would rather have left them whole.
I've used wine vinegar in this particular version, but you can also use a good quality balsamic if you would rather. Put on your favourite Soprano's episode and transport yourself to Italy with these little gems.
Antipasto Marinated Mushrooms
500 grams button mushrooms left whole - or halved if larger
1/2 cup good olive oil
1/2 cup white wine vinegar or balsamic vinegar
2 cloves of garlic chopped
2 Tblspns fresh parsley chopped
1 Tblspn fresh Thyme chopped
2 tspns fresh chilli (or to taste)
1 tspn caster/superfine sugar
salt and pepper
Wipe mushrooms with a damp cloth and trim stalks if needed, place in a bowl.
Place your other ingredients in a screw top jar and shake well to combine.
Pour your marinade over your mushrooms and leave to marinate for at least two hours and up to two days. The mushrooms in the pictures have only been marinating for the minimum 2 hours. As they marinate for longer they soak up more of the marinade and get a little stronger in flavour and take on a slightly different hue, looking darker. The texture changes too with the mushrooms becoming less spongy.
Serve at room temperature as part of a platter or as a side to a light meal.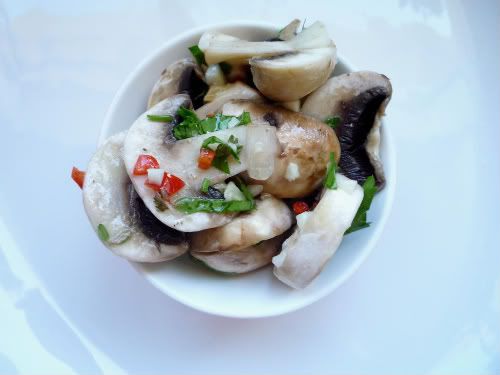 Gustare il pasto!