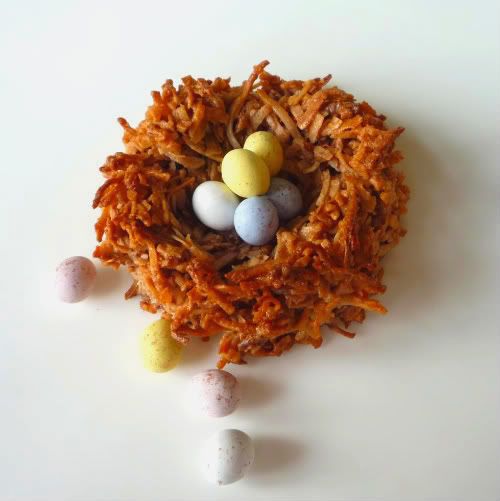 I'm not very good at getting things posted for the holidays, they usually come and go and I'm left thinking " oh yes… that's right .. I forgot about that" But this time I remembered to make something for Easter! Most likely because every time I go into the supermarket I am visually bombarded with chocolate eggs of all shapes and sizes, it's a reminder that it's coming up.
I spotted these tiny little chocolate eggs, and I knew exactly what I wanted to make with these as soon as I saw them. I could just picture them sitting in little nests for Easter. They are less than half an inch from end to end.
These cookies were fun to make and the adults enjoyed them as much as my five year old did. The cookie is delicious, chewy, crispy and chocolaty and stands alone as a cookie. Normally they are shaped into mounds or haystack forms. The recipe was slightly modified and originally came from the lovely Laura at The Cooking Photographer.
Bird's Nest Cookies - Easter Macaroons
2 egg whites, at room temperature
2 oz/60 grams dark chocolate (melted)
1/4th teaspoon salt
1 teaspoon real vanilla extract
1 cup caster sugar
1 cup sweetened condensed milk
14 oz/400 grams coconut threads or flakes
small candy eggs - whatever is available in your area, or use Jordan almonds if you cannot find little eggs.
Preheat your oven to 150C/300F - Line baking trays with parchment.
Beat your egg whites until stiff peaks form in a large bowl. Add in the remainder of the ingredients except the coconut and fold through.
Stir through your coconut. Honestly - I got in there with my hands to mix it well .. stirring seemed to be getting me nowhere!
Form into nest shapes on a parchment lined tray - wet your hands it helps when you shape them.
Bake for roughly 15 -20 minutes - when you remove them from the oven leave them to sit on the tray for a few minutes. before removing to a rack. If you are using candy coated chocolate or almonds you can put the eggs on at this point while the cookies are still hot - it will help them stick.
If you are using chocolate eggs wait until the cookies are barely warm, so the chocolate eggs are not melted completely.
This kind of food .. makes everyone feel child like for a brief moment.. you cannot help but look at these and want to eat them.. and pick the little eggs out one by one.
They are a lovely Easter treat for adults and children alike.. Kit did not eat any of the ones I formed into haystacks for the adults (he called them beaver dams actually) he liked the nests.
So kids in your house or not .. make them and bring back a little childhood moment.