Things have been happening since I last saw you. I've sent two of my children out into the world and finished up at work for Christmas. I've had many trips to the airport in the last month, spent way too much money on way too many things, joined a gym, read a fantasy Trilogy in a week and cooked a Christmas Ham and a fennel and cauliflower gratin to die for. I used one dozen eggs to make creme brulee and I've baked roughly 60 meringues, I watched a 6 year old in a hiphop concert and put on a birthday party for him when he turned 7. I tried wholegrain porridge for the first time, I've become obsessed with lino cuts and ordered myself a Christmas gift!
So as you can see, I've been doing stuff.
I thought you might like to put this ham recipe away for next year. We swooned over this ham today - it smelled amazing while it cooked and as soon as it was out of the oven I had to try a little piece. It fell into the things that make you go "mmmm" category so I wanted to share it with you. I had to carry a very hot, heavy ham around the house looking for enough light to photograph it for you, I nearly dropped it. It wobbled quite precariously at some points. I often make a glazed ham for Christmas - but this is the most heavenly one yet.
I've made this a step by step so that you can feel confident that you know what you're doing when you stand with your very expensive ham in front of you. Please try to use free range ham if you can manage it. This recipe is enough to glaze a large precooked ham.
Marmalade and Bourbon glazed Ham with Star Anise
1 and a half cups of breakfast marmalade
1/4 of a cup of Dijon mustard
1/2 cup of Bourbon whiskey
cloves
2/4 whole star anise (2 for a half ham 4 for a whole ham)
Mix all your glaze ingredients together in a small saucepan. Bring to a simmer and simmer for a 4-5 minutes until thickened slightly.
Strain and set aside to cool while you prepare your ham for glazing. I just cooked a half (cob) ham this year with my big kids gone .. sniffle…
With a small sharp knife (small is better for getting around the curve of the ham without accidentally cutting massive chunks out of it) carefully insert it inbetween the rind and the fat while gently pulling up and back on the rind.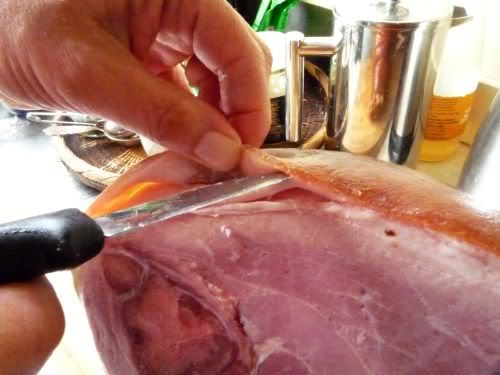 You will find that you can mostly just pull the rind off the ham with your hands but there will be the occasional bit that does not want to budge and you will need to cut with the knife. Make sure when you are pulling that you are still leaving a good layer of fat behind on the ham. This is what you are going to cut to make that beautiful diamond pattern.
Next score the diamond pattern into the fat of the ham. The aim is to cut through the fat but not into the meat. If you cut too deeply the fat will open right up and separate. This sometimes happens no matter how careful you are with your scoring - if it does don't panic just glaze the whole surface and baste the whole surface so the meat doesn't dry out.
If you look at the piece of ham I have there you will see the fat layer is much thinner on the left. It was hard for me to score without touching the meat - so consequently it opened a little as it cooked - but it won't detract at all as long as you keep it carefully basted.
Preheat your oven to 180C/300F
Once you've scored your diamonds into the fat place a clove in the centre of each diamond and strategically place your whole star anise somewhere roughly in the centre of the ham.
I made sure I picked out whole star anise that still had the stalks on so that I could push the stalks into the ham and hold them there.
Put a piece of baking paper in a roasting dish and carefully put your ham in. Brush with the glaze - make sure you get into all the little corners and place in the preheated oven for roughly 50 minutes to an hour 10 minutes.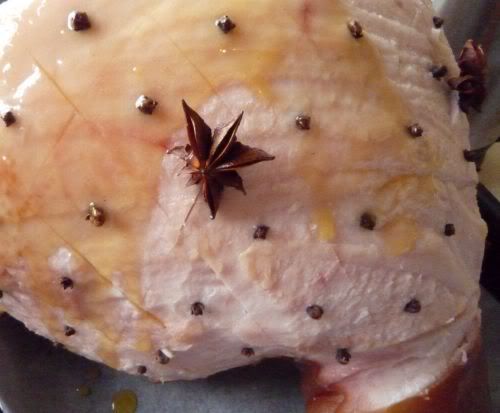 You must baste your ham with the glaze at least every 10 minutes while it's cooking. if you have some bits that are getting a little dark, make sure that you keep them well basted so they do not dry out. If you run out of glaze - baste with the pan juices.
Your ham should be well heated through and glistening with a warm and spicy glaze at the end of the cook time.
You can see on the ham the gap where the fat was too thin and melted away - but I assure you it made no difference to the flavour.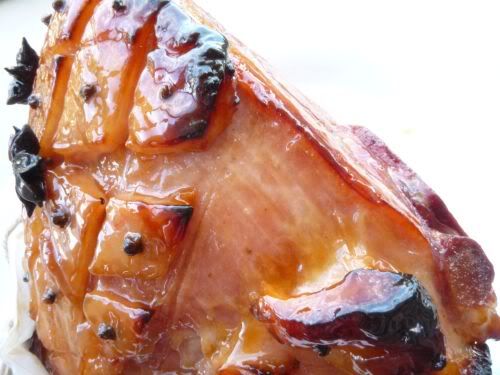 If you've never tried cooking a Christmas Ham .. don't be afraid.
It's really very easy and the result is just absolutely worth basting for an hour.
I'm heading off to the kitchen to grab some leftovers.
A tip for storage. Rinse a clean dish towel or piece of cotton in a solution of vinegar and water ( roughly 1 Tbspn of vinegar to 2 litres of water) and squeeze out. Place the damp cloth around your ham to keep it fresh for up to a month. Every couple of days or so change the cloth and replace with a clean cloth rinsed in the vinegar and cold water.
When you're down to the bone - freeze the bone until you are ready to make a wonderful rich ham stock for pea and ham soup.
Merry Christmas and Happy Holidays to you all.