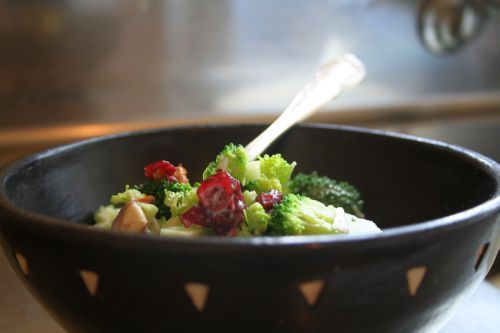 This salad graced our Christmas table this year, and I'm sure you can see why. The red of the cranberries and red onion and the vibrant green broccoli. It's just perfect! Who ever thought that Broccoli would make it to a Christmas table. It's become such a favourite vegetable in our house.
It's a testament to this wonderful salad from Smitten Kitchen that even though broccoli doesn't always agree with me, I still make it anyway and eat it in copius amounts.
The wonderfully tangy buttermilk dressing just seems to add that special something that lifts the salad beyond the usual slightly tasteless broccoli salads that seem to grace so many of our cafes.
I have to confess that I gave the Smitten Kitchen cookbook to my mother in law for her Christmas gift and I might have glanced through the book and happened to notice this salad.
I have only made a small modification to the salad and that is to blanch the broccoli. It just makes the broccoli that much more vibrant green.

To blanch the broccoli just cut as you wish for the slaw, place in a heat proof bowl and pour boiling water over it. Give it a brief swish around (30 seconds or so - no more!) drain and then plunge into icy water. You're not cooking the broccoli simply giving it a little hot water shower to make it nice and green.
Drain it well before using in the slaw. Broccoli seems to be very good at retaining a lot of water in those little florets. I like this slaw fairly chunky.
Broccoli Slaw with Buttermilk Dressing
two heads of fresh broccoli finely sliced
1/4 cup of red onion finely chopped
1/2 cup raw almonds roughly chopped and toasted if you wish.
1/3 cup of dried cranberries
Mix all of these together.
Make the dressing:
1/2 cup of buttermilk
1/3 cup of olive oil based mayonaise
2 T cider vinegar
1 T sugar (_I reduced this to 1 t since I am not fond of sweet dressings)
1 to 3 T finely diced shallot
salt and pepper to taste.
Whisk all together and pour over the slaw. Chill for a couple of hours before serving. Will keep in the fridge for 2-3 days.
A nice addition might be some small diced apple added just before serving.