This is what happens when you ask a 6 year old boy to hold some beetroot for a pose for the blog.
My garden has taken a bit of a battering this year. We had high winds and hot days with lots of rain. An unusual summer indeed. Some things in the garden have suffered, while others have flourished. My zuchinni have loved the weather, growing lush and producing so many fruit that for the first time I've had enough to give away.
My rainbow carrots are ready to pull out of the ground, wash and eat. Sweet and colourful I can't resist just washing them off and eating them. Only half ever seem to make it into the meal. As well as the typical orange, there are all shades of gold and yellow, white and purple. When you take a bite, you expect them to taste different, but they taste like .. carrots! Nice, sweet out of the garden carrots.
Remember back in the spring I planted some French heirloom pumpkins and some Chiogga beets? They're new additions to the garden for me and I was excited to see how they turned out. The pumpkins are running rampant in the garden covering the Valida onions and Borlotti beans and winding their way through the carrots and beetroot.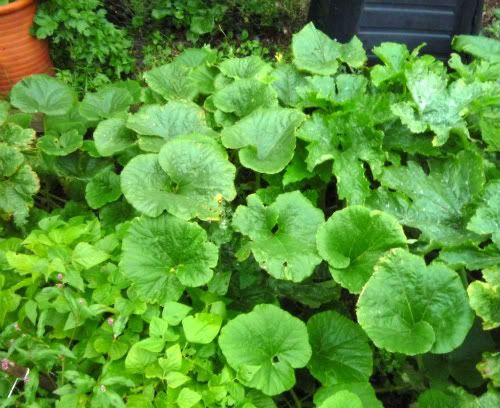 From my kitchen window I love looking down on the garden and seeing the leaves like giant round funnels almost, trailing around the garden. The fruit are only tiny at the moment, but I'm watching them carefully and making sure they are pollinated. I never thought I would find myself in the garden at 7am helping pumpkins have sex!
The Chiogga beets have been a wonderful surprise, unlike their usual dark red counterparts they are so very sweet when raw and are a wonderful addition just grated over the top of a salad or into a coleslaw. The pink and white stripes just look amazing on the raw beetroot. When I pull them out of the garden I just can't help but slice one open to look. The kids have been calling them candy cane beets. When cooked they change colour and have flame coloured hues.
One of our favourite ways to eat these is still slightly warm with a simple dressing. The sweetness of the beets with the pungent dressing are an amazing combination. It reminds me once again how simple things are often the best. Some things just don't need a huge amount of attention or fussing about to be great.
For those of you that are yearning to see the first signs of spring - I urge you to find yourself a few Chiogga beet seeds and plant them when
the weather is warm enough. You won't be disappointed. NZers you can buy them online at Kings Seeds. Plant them in among your flowers if you have no vege garden. The foliage is green with red/pink stalks. Quite pretty. There will always be a space in my garden for these from this point forward.
Warm Chiogga Beets with Garlic & Red Wine Vinegar Dressing
1 kg of Chiogga Beetroot
1/4 cup of good olive oil
1/4 cup of red wine vinegar (or sherry vinegar)
1/2 cup of chopped flat leaf parsley
1/2 tspn raw sugar
2 cloves of garlic - crushed
1/4 tspn salt
freshly ground black pepper
Wash your beetroot under cold running water. Take the tops off your beetroot, but make sure to leave about an inch of the stalks on. You want to keep the beet skins in tact. Do not cut off the roots either, keeping the root in tact helps them to hold their colour. They don't bleed like the dark red beetroot, but they do fade.
You now have a choice of roasting the beetroot at 180C/350F wrapped in oiled foil or cooking them in water until tender.
If you have time, roasting them is the way to go, this will give you a more flavourful beetroot.
If you are in a hurry toss them in enough water to cover in a pan and bring to a simmer, poke them now and then with a skewer to see if they are tender all the way through. How long they take to cook will depend on the size of the beetroot. Roasting takes slightly longer than simmering. They will take anywhere from 25 minutes to an hour.
While your beetroot is cooking make your dressing. Place all the ingredients (except the parsley) in a small jar and shake together.
Once the beetroot are cooked and cool enough to handle rub gently over the skins with your fingers and you will find they just slide off very easily. Trim the roots off and cut each beetroot into chunks.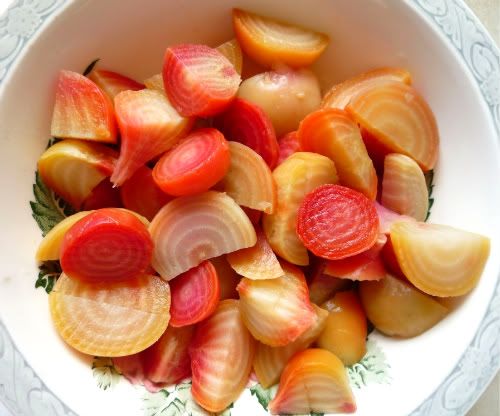 Mix your parsley through the beetroot.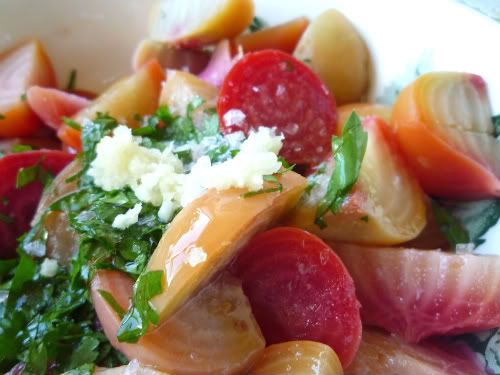 Pour your dressing over the still warm beetroot and taste for seasoning. You can also eat this cold the following day and it will be just as delicious.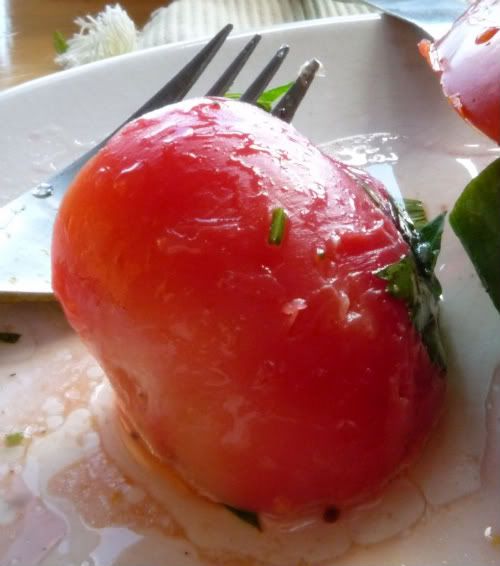 I've really been enjoying my garden this year, there is something really exciting about planting small seeds and watching them grow into something you can prepare for a meal. I would not call myself a gardener at all. I have little knowledge, just a lot of enthusiasm for the finished product. If you have never tried growing your own vegetables maybe 2011 might be the year to start!
It's good for the planet, good for you and your children and honestly the vegetables just taste so much better. There are many wonderful old varieties out there that will grow well in a home vegetable garden. Your produce may not be perfect looking, but I bet it tastes better than anything you can buy in a store. If any of you are venturing into the world of garden to table I'd really love to hear from you.