Did you ever have one of those days where you just end up wishing you had never entered the kitchen and knew that the baking Gods were out to get you? I may or may not have had one of those days making this cake. Ok, I definitely had one. I needed to make a cake for my father's birthday. I only had a couple of hours to make it and I knew he liked chocolate, so chocolate it was going to be. A SIMPLE chocolate cake.
Above that's my Dad with my little sister and me ice skating outside on a lake mid winter in central Otago. Handsome young Dad wasn't he?
I started in on making the cake with not a lot of time to spare.
I read the instruction in the recipe which stated - " line your pan with parchment - because the batter is very liquid and you don't want it to leak" and then promptly ignored it. My problems began at this point.
"My pan won't leak!" I confidently exclaimed to myself.. "I know this pan and I know this mixture it will be FINE".
Guess what….? It wasn't fine, my pan had been taking part in a little rough housing in the cupboard with the other pans and become slightly less round and now it leaks. I ended up with batter all through the bottom of the oven .. pouring on to the lower element and giving off a lovely burnt chocolate cake smoke.
"I can fix this!".. I thought. (still looking for the easy way out)
So I opened the oven - put some foil tightly around the base of the pan and shoved it back in the oven. I ripped the foil and batter poured out in a massive gush from the bottom of the pan.
I went into sensible crisis mode
"Right I need to change pans and line it!"
I grabbed the parchment out of the draw pulled some out and ripped it with great vigor across the sharp little cutty thing .. and sliced my finger with it. Blood began to seep out of my finger.
"It's ok, it's ok.., you're ok, just fix the cake!"
I rummaged about and found another pan (way too big) and hit my head on the top of the cupboard as I took it out.
I picked up the foil wrapped, batter weeping cake pan, forgot it was hot and burned my fingers - of course - I was beginning to expect it now.
I poured the cake batter into the pan with parchment on the base andtossed it back into the oven feeling victorious, even though the oven was now WAY below temperature. Then I realised that the base of the pan was lined, but the sides were not…
I cooked the cake and of course when I removed it - it was stuck on the sides. I managed to extract it without mangling it too much, it was thin because half the batter had poured on to the bottom of the oven and been charred to within an inch of it's life. In fact I believe it actually caught fire briefly.
I decided to cut the maltesers for the top while I waited for it to cool. Half of them shattered into little bits of powder - I picked up a broken one to eat it (well come on, I was having a very bad afternoon!) and it exploded further into bits of filling and chocolate shards which all went down INSIDE my T shirt. So yes.. I had maltesers melting inside my shirt along with little scratchy bits. Sigh ……
Isaac helped me decorate it. Honestly I wasn't going to be suprised if Isaac fell into the cake and smooshed his face in it by accident.
But all's well that ends well - the cake was iced and given to my lovely father. He thought it was a "flash looking cake" Yay!
Happy 82nd Birthday Dad - I'm really glad you got your flash looking cake, it almost didn't happen.
All disasters aside - if you follow the recipe you will find this is a lovely fast chocolate cake that always turns out well (yes it STILL managed to turn out well despite all the in and out of the oven and transferring pans etc). It's from Sophie Gray and is readily available on her blog and in her wonderful books if you have them.
Here is my lovely Dad with some of his grandchildren - from front left clockwise, Isaac, Jacinta, Dad, Fynn and Oliver.
It's been a birthday cake staple in our house for a long time and holds a rather special place in my heart. This cake was also the last cake I baked for my 9 year old son Fynn who passed away. It was his birthday two weeks before he died. This is the first time I've felt I could make it since then. It will always be Fynn's cake to me.
Give this cake a whirl - I'm sure it will become a family favourite in your house too. The original recipe for the icing is on Sophies blog- but I've chosen to gussy this up a little today with a smooth and shiny sour cream frosting.
Chocolate Birthday Cake
Source: Destitute Gourmet
1 2/3 cups flour
1 cups sugar
2/3 cup cocoa powder
1 tsp baking soda
1 tsp salt
1 cups of low fat milk
100 g melted butter
2 eggs
1 tsp vanilla
Sour Cream Frosting
1 cup chopped dark chocolate
4 tablespoons butter
1/2 cup sour cream
1 teaspoon vanilla extract
1/4 teaspoon salt
2 3/4 cups icing sugar
I halved this frosting recipe because I ended up with a single layer cake. But this amount will comfortably cover a two layer cake.
This cake can be made by hand or in the food processor, the results will be the same made either way.
Line a 20 cm (8 inch) loose bottom high sided cake pan with baking parchment. Spray the sides with non stick spray or grease with butter.
If you don't it WILL leak - see above story if you don't believe me. Preheat the oven to 180C/ 350F
If you wish to make it by hand in a large bowl simply add in the dry ingredients first then add wet ingredients and beat with a wooden spoon
To make in the food processor - add in dry ingredients - pulse to
combine and then add in wet, whizz until well mixed.
Pour into your lined cake pan and bake for roughly 50 minutes. It is done when a skewer inserted comes out clean. If you wish to bake it in a larger pan and have a single layer - then you will need to adjust cook times and cook for less time.
If you have made the 20cm/8 inch version - cool on a rack and then split in half when cool, spread jam across the center and then some of the frosting. Place top layer on and then cover the entire cake with frosting.
To make the Frosting
Place the chocolate and butter in a bowl in the microwave and heat until the butter melts. Stir the chocolate into the warm butter to melt completely. Add in your sour cream, vanilla and salt - stir well.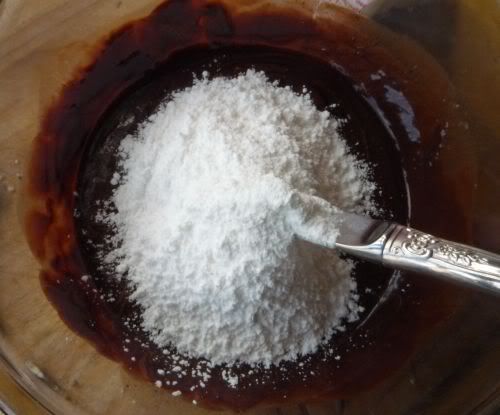 Add in your icing sugar a little at a time and beat well between additions until you have a spreadable consistency.
A beautiful moist cake - keep it covered in the fridge to keep it at it's best for longer.
I'm off to make a sacrifice to the baking gods now - I'm going to go burn some cookies or something.

This post was entered in the Sweet New Zealand Monthly blogging event. It's being hosted this month by Couscous &
Consciousness. If you would like to enter something yourself you can check out the rules here for the Sweet New Zealand Blogging Event.