For a long time this has been one of our favourite everyday cakes. It's a sheet cake, not a big fancy layer cake, it's dusted with a sprinkling of powdered sugar just before serving. Chunks of chocolate interspersed through the cake and little flecks of zucchini barely visible, but adding a wonderful moistness to the cake.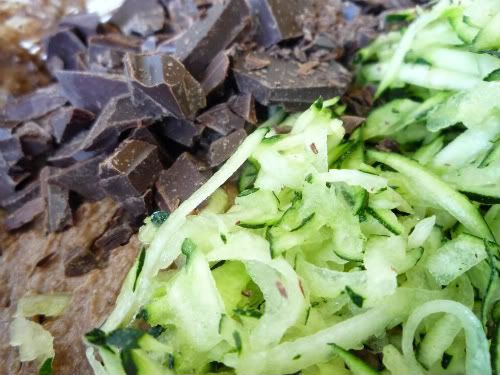 It has a hint of spice with cloves and cinnamon, this is really a great cake to be able to sit with at the end of the day, or to wrap in a piece of waxed paper to take to work and devour in front of workmates!
This cake is bound to become a favourite in your house as well. I do need to apologise for the photos in this post, they are not my best, I was having a bit of an off day with the camera. But despite the photos the cake is a keeper.
Chocolate and Zucchini Sheet Cake
1/2 cup of butter
2 eggs
1/2 cup of oil
1 tspn of vanilla
1 3/4 cup of sugar
4Tblspns cocoa
2 1/2 cups of flour
1 tspn baking soda
1/2 tspn baking powder
1/2 tspn ground cloves
1/2 tspn of cinnamon
1/2 cup of sour milk (milk with 1 tspn of vinegar added to it) or buttermilk
1 cup of chopped good quality chocolate
2 cups of zucchini grated.
Preheat the oven to 180C/350F
Grease and flour a slice pan ( 9x11 cake pan)
Cream together the butter and sugar - add in the eggs one at a time, mix in well then add in oil and vanilla, mix.
Sift together the flour, cocoa, baking soda and spices. Add to the butter mixture alternately with the milk, stir until just mixed.
Add in your zucchini and chopped chocolate.
Bake 40 minutes. Cooked when a skewer comes out clean.
This cake does not have an icing, it's just fine without it. I normally just dust some icing sugar over the top before serving.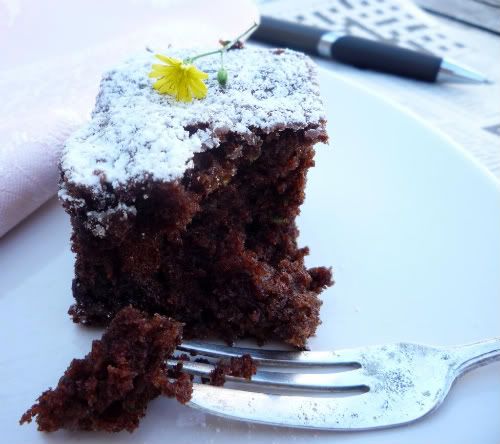 Next time you are looking for a way to use all your zucchini - since there always seems to be a glut of them, turn to this cake. It's quick to make and delicious. Sit down in the sun with a good book and a slice of this and you will view zucchini in a whole different way. I look forward to seeing zucchini in my garden for a number of reasons but mostly because I know there will be one of these cakes coming out of the oven.