Crumpets - you cannot get more English than that. The word itself conjures up ladies with fine bone china cups of fragrant tea balanced delicately on saucers with their ankles demurely crossed. Quiet and polite conversation ensues while Thomas and Edward play croquet on the lawn.
Well .. not in our house. I mentioned quietly, I'm going to make crumpets. A very loud YUM was the response. They were not eaten with tea in china cups, but hot out of the pan at the bench with golden syrup drizzled from the bottle. In fact I think Kit ate his over the sink so he would not have to bother with a plate. Isaac actually contemplated no golden syrup for a moment so he would not have to wash his hands afterwards. Yes, we're a rather uncouth lot our family.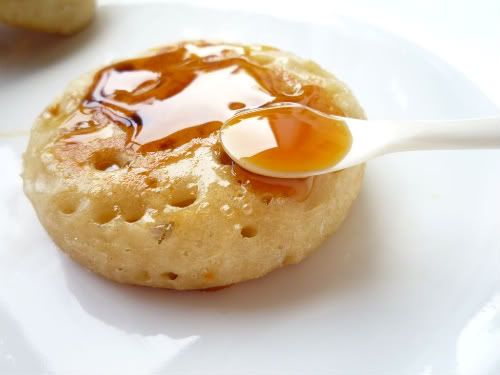 The origin of crumpets has been dated back as far as the 1300's, with something called crompid cake, which food historians seem to think was the humble crumpets first appearance. Crumpets are not the same as an English muffin. They are quite different and have a totally different cooking method and texture. Some crumpet recipes have eggs in them, while others do not. The one I've given here is a recipe without eggs, and easily made vegan with the use of soy milk.
I had a bit of an interesting time making these. I weighed and measured out my ingredients carefully - but I had a feeling that my batter was too thick. It had been a while since I'd made them and I could not quite remember what the batter was supposed to be like. I went ahead anyway. Once I started to cook them I decided the batter was definitely too thick and added extra liquid. I realised at that point that my kitchen scale had been resting on the lid of the cookie jar and consequently I had measured way too much flour into the mix. Easily rectified though with the extra liquid.
Lesson learned. Your batter needs to be thick, but should spread to the edges of the rings that you use to mould your crumpets in on it's own and the little bubbles on top should appear within the first minute or so of cooking. If you are not getting many little holes in your crumpets add a little extra water to your crumpet batter. Also as the batter stands while you cook you may need to add additional water since it thickens a little.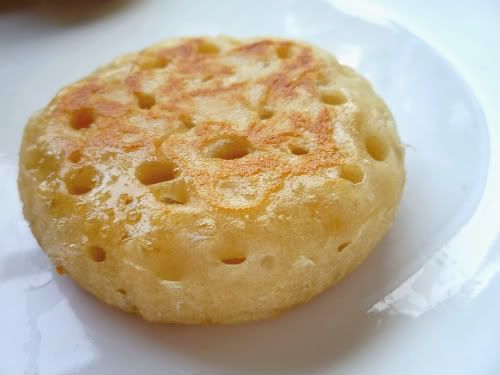 If you don't have special crumpet rings you can still make these. Try using high sided cookie cutters, tuna cans with the bottom and top cut out (be careful on sharp edges), egg poaching rings or food moulds. I used a combination of egg poaching rings and food moulds for these. If you can, choose something that is 2-3 inches across that is roughly the right size for a crumpet. Make sure you grease your pan and your rings after each crumpet. This is important or they will stick to the rings. You can use a little cooking spray or butter.
English Crumpets
recipe from Bill Granger - Sydney Food)
Makes 16-25 crumpets depending on your mould size
1 1/2 cups of milk
1 1/2 tspns sugar
7g (1/4 oz)sachet of dried instant yeast
375g/12 oz flour
1/2 tspn baking soda
200ml/6 1/2 fl oz water
pinch of salt
Pour the milk into a saucepan and heat until just warm. Transfer into a bowl and add the sugar and yeast. Allow to stand for 10 minutes or until the milk starts to bubble.
Sift the flour and salt into a bowl and make a well in the centre. Add the milk/yeast mixture to the flour and beat with an electric beater until completely smooth.
Cover in plastic wrap and stand in a warm place for 1- 1 1/2 hours until doubled in volume and full of air bubbles.
Mix the baking soda with the water and use your electric beater to combine this with the batter.
Heat a heavy based frying pan or griddle over a medium heat and grease with a little butter.
Grease your crumpet moulds also - keep them greased throughout the cooking. Place your moulds on the hot surface and place 2-3 Tblspns of mixture inside the mould. Your first 2-3 crumpets will be a little trial and error to get your desired thickness. Your mixture will rise in the moulds.
Within a short period of time your crumpets should get small bubbles all over the surface that begin to break. It will look like this.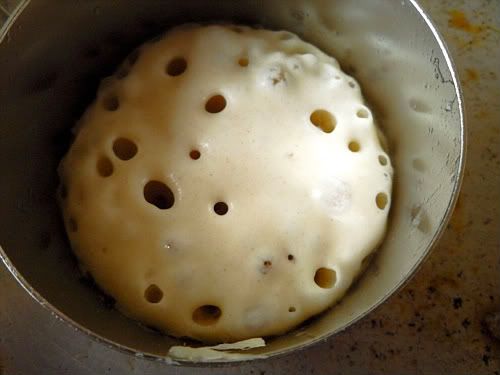 Once the surface is covered in broken bubbles and a light skin has formed you can remove your crumpet from the mould, turn gently and cook on the other side.
Remove from the pan and snuggle your crumpets in a clean tea towel while you cook the rest.
The crumpets can be eaten fresh or toasted.
Some ideas for topping your crumpets:
Crumpets are great used for either sweet or savoury toppings
Honey
Golden syrup
Jams
Nutella
Top with cheese and bacon and grill
Tomato and fresh mozzarella
spaghetti and cheese
meatballs and cheese
refried beans and salsa
sloppy Joe toppings.
This is not the kind of thing that I envisage people making regularly unless you have a lot of time at home. But to make now and then on a lazy weekend, they are perfect.