I've taken the plunge and I've joined Daring Bakers - what was I thinking? I'm scared
and excited about this all at the same time. It's a little like starting the first day of school. There are some very talented bakers out there and I am very much just a home cook and baker.
I decided that this would be the perfect opportunity to push myself a little bit and try some new and delicious things. Despite having a funky oven which has a mind of it's own and likes to burn things when I really need them to be right, I will give this my best.
The January 2010 Daring Bakers challenge was hosted by Lauren of Celiac Teen. Lauren chose Gluten-Free Graham Wafers and Nanaimo Bars as the challenge for the month. The sources she based her recipe on are 101 Cookbooks and www.nanaimo.ca.
Thank you Lauren for introducing me to these wonderful Canadian Bar cookies and to home-made Graham crackers.
The first part of the challenge was to make the Graham crackers.
We were given the option of making them gluten free or a standard
version with wheat flour. I decided since I have never made Graham
crackers before or Nanaimo bars I would go with the standard version this time to see what they were like before I took liberties with them.
Kit is American and thought that these were just like the real deal, although he could just be fluffing my ego.
I had fun making these and was really happy with the way they turned out. I still have some of the dough frozen to make some more.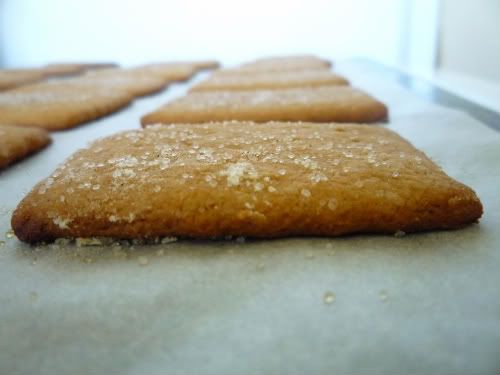 I could not complete the second part of the challenge for a few days, which was to turn these lovely crackers into crumbs. They go into the base of the Nanaimo bars.
This is what I had to do to make sure they were still there in three days time so I could make the bars.
Any food in our house is fair game unless there are warnings and severe penalties attached. Notice the triple underline - yes I really mean it!
Making the bars was simple enough, I think the real key was ensuring that each layer was well chilled before attempting to put the next layer on. If the previous layer is warm it will melt the next one. Before I did the chocolate layer I chilled the bottom and middle layers over night. So there was no hint of warmth before I poured on the chocolate.
This was how my bars turned out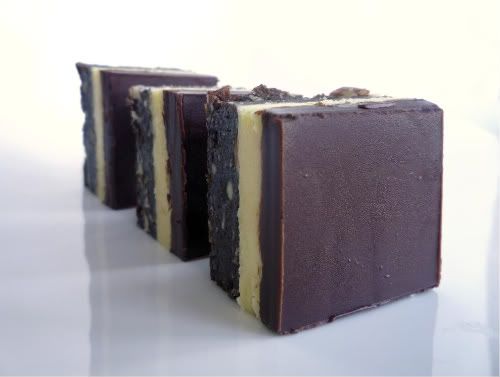 I was pretty happy with them. I did find that cutting them chilled they had a tendency to separate at the conjunction of the middle and bottom layer, so it would pay to just leave at room temperature for maybe 5 minutes before cutting if you want a nice clean cut. This also stops the chocolate top from cracking when you cut it.
The custard flavoured layer was very sweet, so I used a bittersweet chocolate on the top to cut the sweetness a little bit.
With Valentines Day just around the corner I wanted to have a try at something that was a little more romance oriented. These are so rich they do feel like a special occasion treat rather than every day baking.
I made some changes to the recipe to come up with these.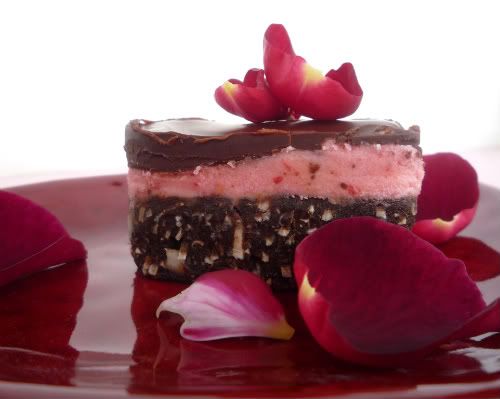 Valentines Raspberry & Macadamia Nanaimos
Follow the recipe for the standard Nanaimo Bars recipe above with the following modifications.
Base
add 1 tspn of Vanilla extract
substitute 1/2 cup of Macadamias for the almonds
Be careful when you are chopping macadamias if you are using the food processor, they have a high oil content and you can easily end up with macadamia butter instead of chopped nuts.
Middle layer
remove the cream and substitute 2 Tblspns of raspberry pure made from fresh or frozen raspberries whizzed in the food processor with 1 Tblspn icing/powdered sugar. I left the seeds in, but you could sieve them out if you wished.
Top Layer
180 grams of bittersweet chocolate and 2 1/2 Tblspns of butter - note the increased chocolate quantity.
Of course being for Valentines day I had to make them heart shaped. I used a deep cookie cutter for this.
The Valentines Nanaimo bars were not quite as sweet as the standard version, and the raspberry cut the sweetness of the chocolate layer. I would definately make the raspberry version again. Although Leah liked the regular version better.
I was thrilled with these and taking part in my first Daring Bakers Challenge, I'm excited about being able to try new things in my kitchen.