This is the fennel that I planted in my garden this year. I was not allthat hopeful that it would do well, but unlike my zucchini it actually thrived! I have so much fennel I was struggling to find ways to eat it.
I make a mean fennel and cauliflower gratin and a fresh, crisp fennel and apple salad. The leaves are frequently tucked in little parchment packages with salmon or tossed with vegetables. But I felt like I needed something else to try, something that would really wake up my taste buds.
I hunted about online for some inspiration and stumbled across a recipe feature from one of my favourite places to eat, Riverstone Kitchen in Oamaru.
I was a little hesitant when I initially saw the quite large quantity of herbs in this recipe. Look at all that wonderful fresh mint and parsley, I love being able to pick things out of my garden and eat them within the hour. I piled in the herbs in the amounts suggested and thought it might have been a little much.
I should have trusted the wonderful chefs at Riverstone, the balance of flavours is just right. Mint and Lemon should get married, those two flavours just seem to work so well together.
Salad of Fennel, Baby Peas, Feta and Lemon.
Serves four
2 medium-sized fennel bulbs
Small red onion
150g sheep's milk feta (I used cow's milk feta)
200g baby peas (I used frozen and thawed but not cooked)
Cup flat leaf parsley, picked
Cup mint leaves, picked
150g baby spinach leaves
Juice of 1 lemon
40ml extra virgin olive oil
Salt and pepper
Finely shave or slice the fennel into a large bowl with a mandolin or very sharp knife. Try to keep it nice and fine.
Crumble the feta over the top and add the remaining ingredients. Toss together gently and serve.
Drizzle with a little extra olive oil to serve if you wish.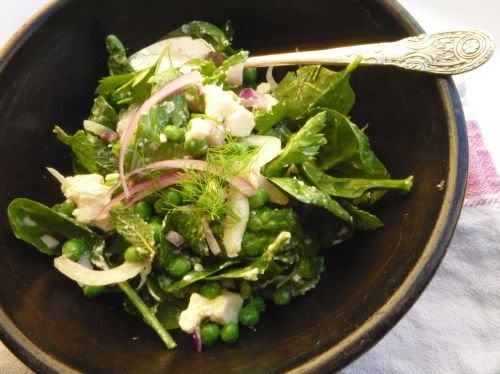 As soon as I took a mouthful of this my mind was racing .. did I have enough ingredients to make this again?
The recipe states that it serves 4 - but honestly I could easily have sat and eaten at least half of this on my own without any trouble at all. But of course that would be greedy, wouldn't it. Wouldn't it?
Teamed up with a nice piece of grilled salmon and some new potatoes this would make a very elegant and memorable meal.
Outside of the kitchen this week it's the Fringe Festival in Dunedin. We didn't have a
huge amount of time to visit performances between dance lessons, piano lessons, husband crashing into a mirror and destroying half a jewellery shop (another story for another time), hair cuts and purchasing of shorts for Isaac's triathalon.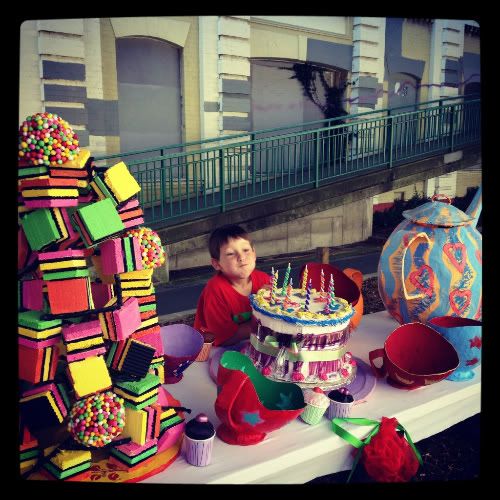 We had just enough time to visit the Mad Hatter's tea Party art installation under the overbridge (Isaac found that itself amusing - how could you possibly go under the overbridge?)
He could not resist poking the licorice alllsorts to see if they were real. It was also quite interesting to see people's reactions as they came across this massive table filled with oversized food and teapots.
Hopefully I'll get to see a little more of the Fringe festival and be able to share with you.
Till next time!