It's spring here in Otago. Lambs everywhere, birds nesting, daffodils in bloom and unpredictable weather. When a warm day presented itself we decided to visit our local Pyramids. That's right. Pyramids. Not made by hundreds of thousands of slaves, but made by volcanoes. The city I live in is actually built in a volcanic crater, the harbour created by a massive explosion. If you look carefully at what's around you there is evidence of a violent, volcanic past everywhere.
I'm ashamed to say that although I have lived in this area much of my life, I've never visited the Pyramids at Okia until this weekend. I think often Kiwi's take the beauty around them for granted. People travel from all over the world to visit New Zealand and we often forget what is literally on our back-door step.
The Pyramids are about 20 drive minutes from my house. The wind was a little brisk, whipping our hair into our eyes and making faces rosy, but it was absolutely worth it. Let me show you.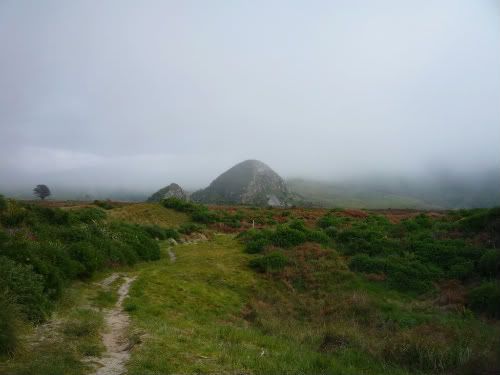 That's the pyramids in the distance, a smaller one and a larger one. While we walked through the bracken and sand we discovered all the creatures that were not apparent on first glance. Tiny brown skinks darted in and out of the undergrowth, scared by our footfalls. Rabbit holes peppered the banks and hawks and falcons circled overhead. There are also Hooker Sea Lions that live here as well as penguins. There are signs everywhere that tell you how to avoid them so they are not disturbed.
As you get closer to the Pyramids, you realise they are not just a couple of large pointy rocks, they have the most amazing structure.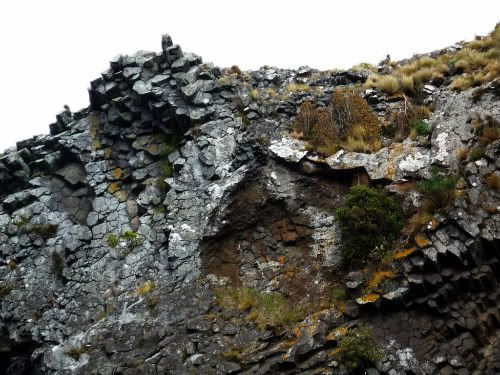 They look like someone has gathered a bundle of spaghetti and then chopped it across the end. The lichens and mosses add little bursts of colour all over them. They have all kinds of caves and nooks and crannies, Isaac was positive there must be monsters in there.
Massive lichen and bush clad cliffs surround a salt marsh basin.
Finally you arrive at a white sand beach called Victory Beach. It's named after the SS Victory, a Steam ship which sank there in 1861 because the Captain had had a little too much to drink. The wreck is still there and can be seen at low tide.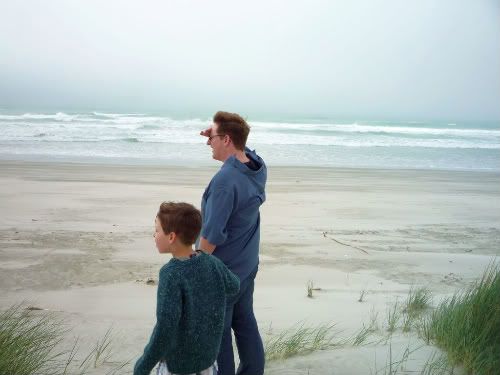 We had the beach to ourselves - except for the husband and wife Variable Oyster Catchers that were not all that thrilled to see us. It was cold! Don't let that white sand and aqua sea fool you into thinking it's tropical. It's a 2 kilometer walk to the beach, and Isaac managed it just fine, so anyone with a moderate level of fitness could walk there.
One of the reasons I am telling you about this beautiful walk we went on, is that before you make this Kahlua cake, you really should go for a walk to earn your piece. It's not low calorie, it's not good for you, unless you can convince yourself that it's packed with antioxidants from the dark chocolate. It is however completely delicious.
Fudgy on the inside, it's a relic of the 80's with it's dense chocolatey and coffee taste. Cakes like this were commonplace on many cafe menus, back in the day when big hair was in. Serve it with light mounds of whipped cream or plain yoghurt to balance the sweetness. If you've been for a walk, then you can eat it guilt free! If you haven't been for a walk - then eat it anyway, it's too good to miss.
Kahlua Mud Cake
250g butter
150g dark chocolate chopped roughly
2 cups sugar
1 cup hot water
1/3 of a cup of Kahlua (or other coffee liqueur)
1 Tblspn instant coffee
1 3/4 cups of plain flour
1/3 tspn baking powder
1/4 cup cocoa (plus extra for dusting)
2 large eggs
Preheat the oven to 160C/320F
Grease a 26cm Springform pan and line the base with baking parchment. You can use a smaller pan but adjust the baking time.
In a medium saucepan combine your butter, chocolate, sugar, water and instant coffee. Stir over a low heat until the chocolate and butter have melted.
Transfer to a bowl and leave to cool slightly. Add in your sifted flour, baking powder and cocoa. Stir to mix, then add in your eggs one at a time. Look at that beautiful egg, free range organic eggs from my best friends farm.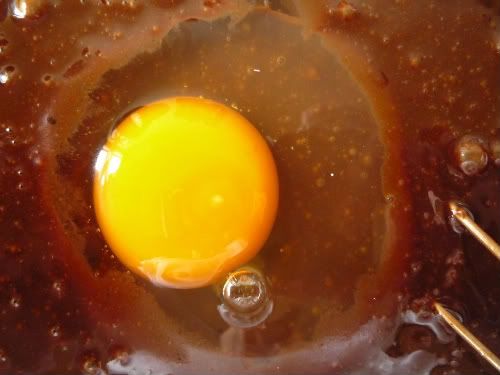 Pour into your prepared pan and bake for roughly 40-50 minutes. Remove from the oven when a skewer inserted into the centre comes out just clean. Adjust the cook time if needed according to your oven and pan size. Do not overcook.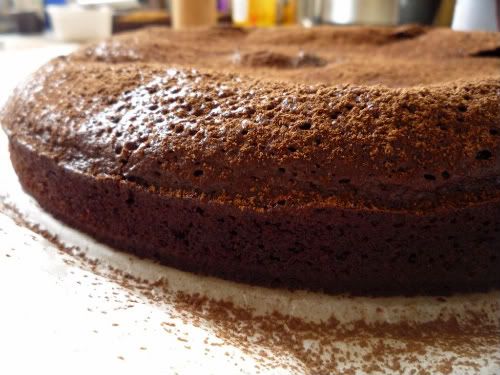 The cake will sink slightly in the middle and crack a little on cooling; this is perfectly normal. This cake is not going to win any beauty contests, however this cake did win first prize in a chocolate cake contest a few years back. It won Kit a lovely bottle of wine and earned him many unpleasant looks from the women that entered the competition (he was the only male that entered a cake - and yes he did make it himself).
Dust with a little cocoa when cool.
The inside?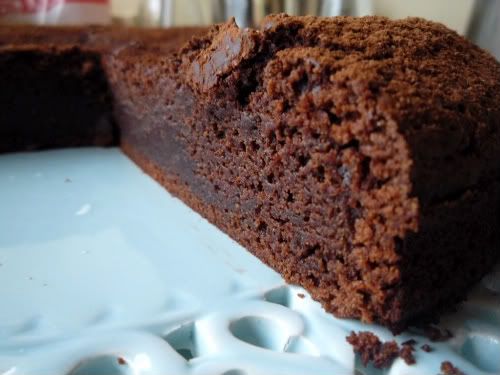 Fudgey, chocolatey, coffee infused, yum.