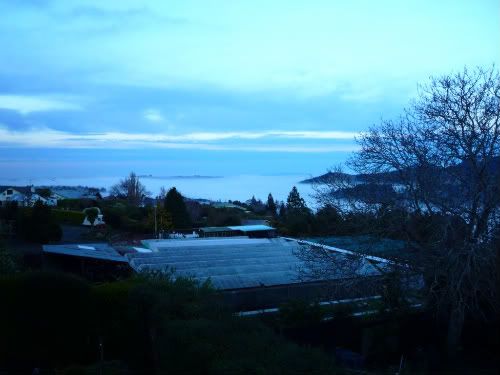 It's not summer here on the bottom of the planet, it's still very much winter. This was the view that I saw outside my window this morning when I woke. Mist hanging around in the valley with only the very tops of the hills peeking out of their foggy blanket. Looks cold doesn't it ? It is.
But there are signs of spring around if you look carefully. Bulbs starting to poke their shiny new leaves out of the wet soil and braving the frosts that are still present in the early hours.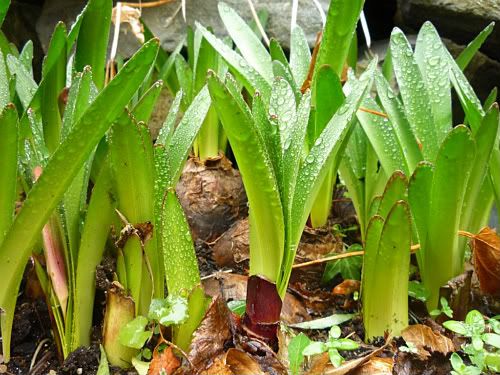 Although I love the winter, I do reach a point where I want to see things growing again and see the sharp colours of spring and summer.
From the moment I laid eyes on this blueberry curd I was in love. Now normally it would take quite a bit of effort to shift me from my devotion to lemon curd (as
a child, I knew it as lemon honey). When I saw this glorious shade of vivid magenta, blueberry curd went right to the top of my "things to make" list.
I'd never even heard of blueberry curd, I was blissfully unaware of it's existence, but here it is. The lemon is a perfect foil for the blueberries sweetness, there is just the right amount of tart and sweet.
My neighbourhood supermarket is brimming with local Meyer lemons at the moment for a mere $3.00 a kilo. Blueberries however, are not in season. I settled for frozen, figuring that at least the frozen ones would have been picked at their peak and that any extra liquid that they had would be lost in the cooking process with a little additional cooking.
Guess what? It worked really well with the frozen blueberries and now I have four jars of blueberry curd sitting in my fridge. It's a great way to get a little taste of summer in the middle of winter. If you are in the summery half of the world then you can make this with plump fresh berries.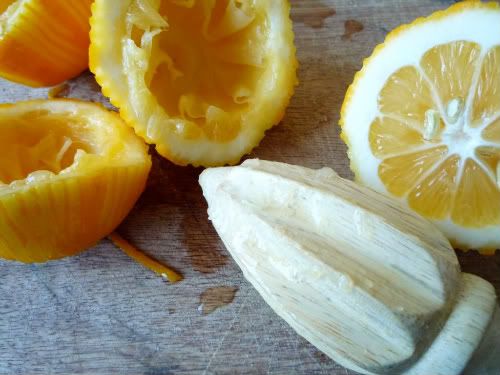 Meyer Lemon and Blueberry Curd
makes roughly 3 cups
2 and a half cups of blueberries (fresh or frozen)
zest and juice from two lemons (pref Meyer lemons)
1 3/4 cups of sugar
100 grams butter
3 large free range eggs
Place your blueberries, lemon zest and juice in a saucepan and bring to a simmer, simmer for roughly 10 minutes until the fruit is very tender and can be squashed easily.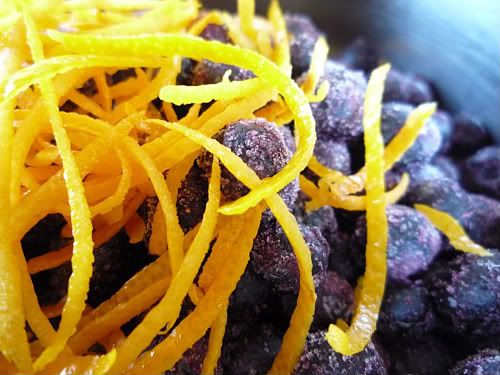 Put the mixture through a fine sieve and press the fruit to extract the juice. If you are particular about seeds you could line the sieve with muslin to ensure none escape into the curd.
Place the juice in a double boiler or in a bowl over hot water. Add the sugar and heat gently until the sugar has dissolved.
Add in your butter and stir until it's melted.
Beat your eggs lightly and then whisk into the warm mixture. Continue to cook the mixture until thick and it will coat the back of a spoon thickly. When you run your finger over the back of the spoon it should leave a clear trace.
This took about 40 minutes using the frozen berries, it may take less time if you are using fresh. You do not need to stir it continuously, you can get away with stirring it from time to time. Make sure that your double boiler has plenty of water in the bottom and check the water level occasionally.
Pour into clean jars and store in the fridge for up to two weeks.
What do you do with this? Spread it on toast, English muffins, crumpets. Mix it into mascapone, swirl it into cheese cakes, dollop it into the middle of muffins and sandwich it between meringues or churn it into ice-cream. Whip cream, mix in some curd and layer your cakes with it, bake it into a tart. I'm pretty sure you can think of something to do with this velvety and most delicious concoction.
Thank you to Tigress in a Jam for posting this recipe and bringing the joy that is Blueberry Curd into my life.