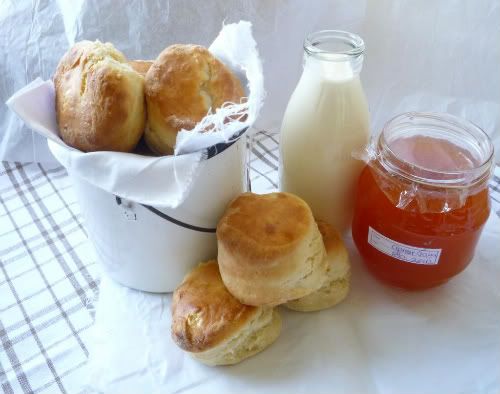 I know I promised Nancy croissant for the weekend, but I am afraid I just got too busy with an unexpected trip into work and helping some friends move house. Since croissant are time consuming to make I really needed a free weekend to make them. So I'll keep my fingers crossed that next weekend will be croissant!
So I present to you a fairly typical weekend quick baking project with a twist! Lemonade scones. They are not made with old fashioned lemonade, they are made with soda, like sprite, 7UP or what ever your local brand of clear mostly flavourless soda is.
These are so simple that initial thoughts are that they cannot possibly be good. But they are light and sweet and the cream in them adds the fat that is so important for scones. I doubled the recipe to make a large number for the hungry people that I knew would be lifting furniture and boxes. I had a lovely jar of bright orange home-made apricot jam from my mother that I teamed up with these.
These scones are best eaten on the day they are made, they really do not keep well, but it does not seem to be a problem to get rid of a batch fairly quickly!
Lemonade Scones
3 cups of self raising flour
1 cup of cream
1 cup of lemonade soda (Sprite/7UP etc)
If you measure your cream first, then your soda and use the same measuring cup - beware .. this is what you'll get! Personally I think this is quite fun and like to do it this way- but be ready for it! Isaac was most amused by the soda mushroom.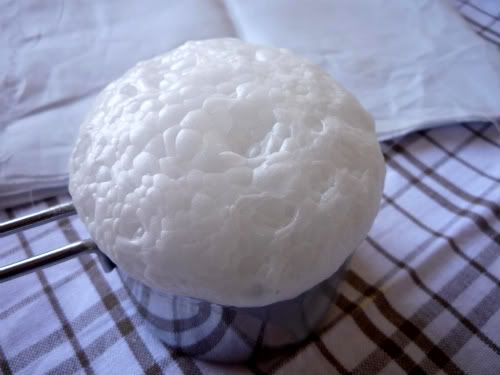 Mix all ingredients together gently to make a soft dough, either add more liquid or flour a little at a time if your dough is too dry or too wet.
Shape into a rectangle roughly an inch to an inch and a half thick and cut into circles with a 3 inch cookie cutter or the rim of a glass. I've even been known to use the rim of a vase or jar rims if that's all I can find. Really most things can be improvised and there is not a lot of need to have fancy stuff in the kitchen.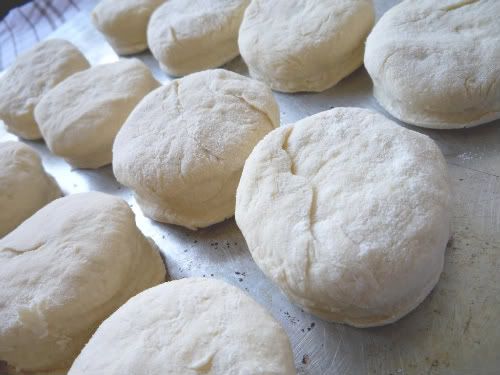 Place on a lightly floured tray, brush the tops with a little milk and bake at 220C/428F for 10-15 minutes. You can put them fairly close together - this will help them rise up and give good height to your scones.
Yep that is all there is to it!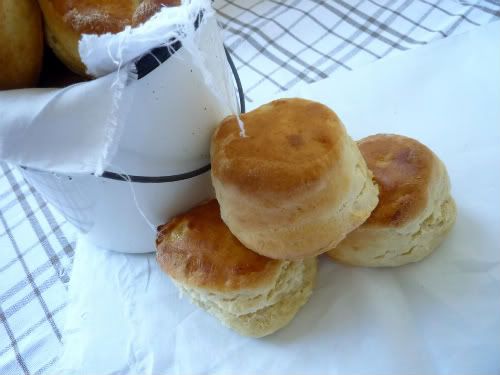 This recipe makes roughly 12-14 light and sweet scones.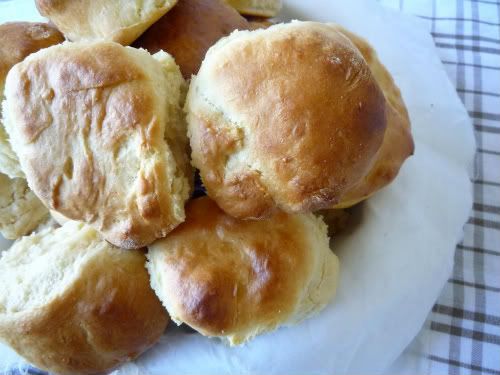 Snuggle your scones up in a clean tea towel or cloth and serve them with some butter and jam. Scones are always best slightly warm, but not straight out of the oven.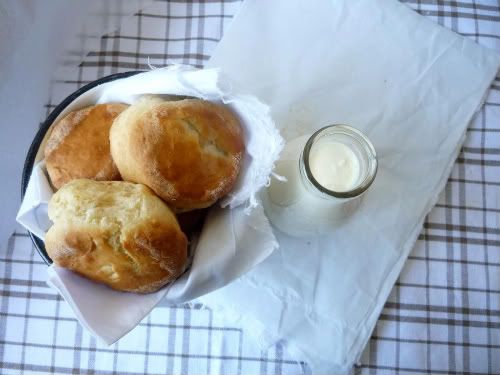 I promise I'll get to the croissant next weekend - although I suspect I might have to get another lot of chocolate for them, it seems to have mysteriously vanished….