Do you ever wake up and think to yourself, I've been so busy, but I have no idea what I've been busy doing? The last two weeks have been like that in our house. Fortunately I've been a little camera happy so I have plenty of photos to remind me of the things that I've spent my time doing.
I iced 50 cupcakes with Isaac for the school fair. This was his cupcake that he made for himself, note the extra allocation of sprinkles! I think he missed a bit in the upper left hand corner there.
I helped Isaac collect bits and pieces for a sand saucer. First prize effort on his part for the best prehistoric sand saucer! I suspect it was the only one actually, but that's beside the point. He was most proud of himself.
We went to the chinese moon festival at our local chinese gardens. Drank Jasmine tea, ate moon cakes and watched people in red clothing bang gongs and drums and work those amazing humming chinese yoyos.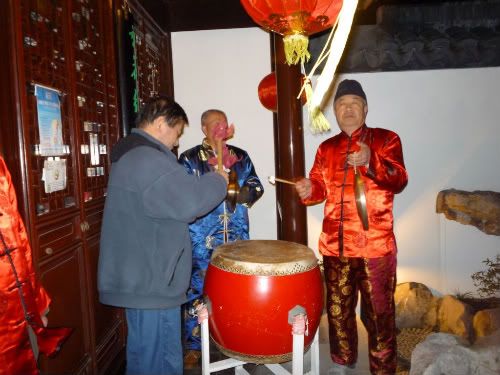 I spent time in the garden and watched the little grape hyacinths come into bloom. I gathered up a few and popped them into a cream bottle on my kitchen windowsill. When I was little these were always the decorations on the mud pies that were lovingly constructed by my little sister and I in the garden.
In a bit of a retro moment I made a classic waldorf salad with the cos lettuce that managed to survive the snow and gale force winds last week.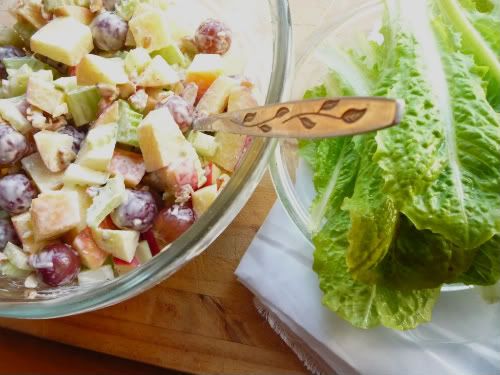 We cleaned out the car and the basement, cried at a movie, ate too many croissant, beamed at Isaac eating squid, thumbed through books in the library, planted seedlings, played soccer on the grass, examined slaters crawling about, bought raspberry drops, did puzzles, played games, recycled, ferried children around, mowed lawns, watched snow fall, worked, slept, ate and the days just vanished.
Life does just fly by, and I am beginning to understand why people in their winter years wonder where the time went.
Tonight we spent time with friends and I took a small pot of Olive Tapenade and a Torta al Vino along with us, along with some beetroot from the garden.
All the ordinary things that make up a life. Make sure you take the time to notice the things that make up your days. One day you'll wonder where the time went.
Tapenade is one of life's delights. Salty and rich and oh so versatile, it only takes a moment to make and will keep in the fridge for a couple of weeks. You can go rustic and use a mortar and pestle or you can take the easy route and use the food processor as I have here. If you're extra busy, don't worry, buy pitted olives and it will only take a moment.
Quick Kalamata Olive Tapenade
1 cup of pitted good quality Kalamata olives
2 anchovy fillets
1 T capers
1/4 cup of olive oil
1 fat clove of garlic
Place everything except the olive oil in the food processor -pour in the oil with the motor running and blend until you have a slightly rough puree.
Put into small jars and cover with a light layer of olive oil to stop oxidisation.
Makes roughly 1 cup of Tapenade.
Suggestions for Use
Spread on crackers or lightly toasted wholegrain bread
use with fish or chicken while cooking (stuffing or spread)
as a dip with raw vegetables
mix into egg or potato salads
fantastic with cream cheese on rye bread
spread in sandwiches (nice with egg)
mix with breadcrumbs to stuff mushrooms before grilling
toss with pasta
thin with olive oil and use as a salad dressing
try a little spread on tomatoes before grilling
Enjoy it with someone you love, that loves olives too.