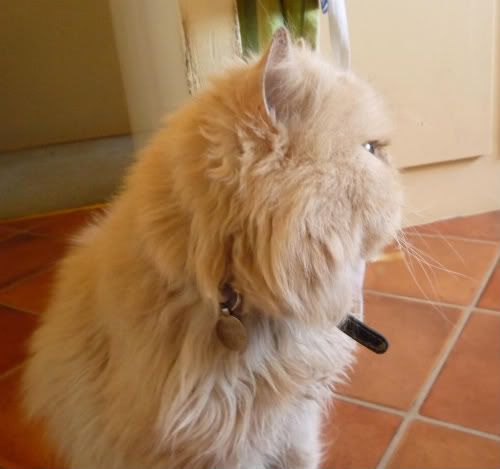 I've been busy this week making pastry and cream patisserie so I had a lot of egg whites left sitting in my fridge. So I did what every good Kiwi would do, I made our favourite antipodean dessert - Pavlova. There was a bit of an incident with the Pavlova I made for this post .. and it has to do with a very fuzzy little cat called Rafale who lives with us…..
Look at him.. all innocent and cute …. but I tell you all, don't be fooled by the fluffiness .. he's trouble! More about Rafale later and the Pavlova incident.
There has always been a little contention over this being an Australian dessert or a New Zealand dessert. If you would like to read over the entire debate you can have a look here at the History and Origins of Pavlova and make a decision for yourself based on the evidence.
Honestly? I don't really care who invented it, it's a beautiful dessert and I can see why it was named after a ballerina. Light and airy it literally dances across your tongue. The crackle of the meringue on the outside gives way to a billowy sweetness that starts you thinking about having another piece before you have even finished your first. Because it's so light you can indeed fit in that second piece without any trouble at all!
I'm not sure why this is often left to special occasions, it's really very simple to make and if you throw it in the oven at the end of the day you can forget about it till morning. My mother used to make one almost every Sunday to take to Sunday lunch at my grandmothers when I was little. It was smothered in whirls of whipped cream and grated chocolate, sometimes with strawberries dotting the top. "I just need to cream the Pav!" Mum would be calling out just as we were about to leave for Grandmas.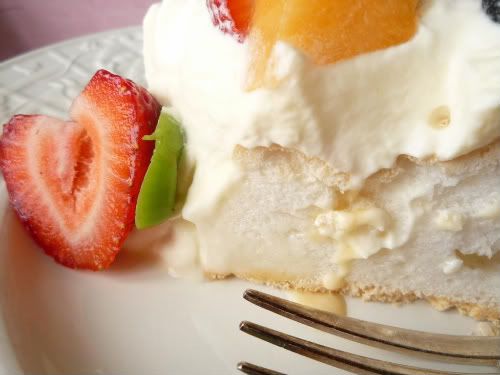 This is not my mothers Pavlova recipe, this one belongs to Michelle from my workplace. Thanks Michelle! Not that there is anything wrong with my mothers recipe, I just needed to use more egg whites.
8 large egg whites
2 cups of caster sugar/superfine
1 dessert-spoon of Vanilla extract
1 dessert-spoon of Malt Vinegar
Topping
500 mls/2 cups of heavy cream
1 tspn of vanilla
2 Tblspns of icing sugar/powdered sugar
fresh fruit of the season.
This is easiest with a hand held electric beater or stand mixer with the whisk attachment. If you're really hardcore you can use a whisk, but you better have some serious stamina if you are going to whisk it by hand. I like to use the hand held beater so I can have a good sense of how stiff the meringue is.
Preheat your oven to 150C/300F
Beat egg whites until stiff peaks form.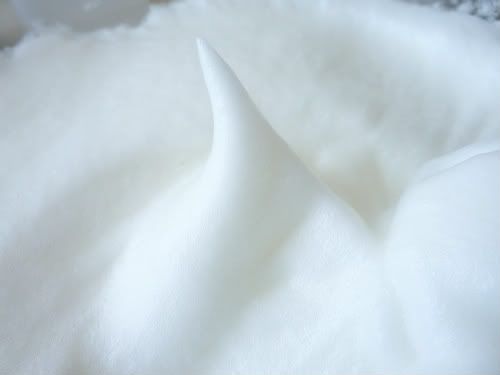 Add in caster sugar 2 Tblspns at a time gradually, making sure they are completely incorporated before adding the next 2 Tblspns. Continue like this until you have used all your sugar.
When you have added in all the sugar beat in the vanilla and the vinegar.
You should have a stiff smooth meringue that is not grainy at all.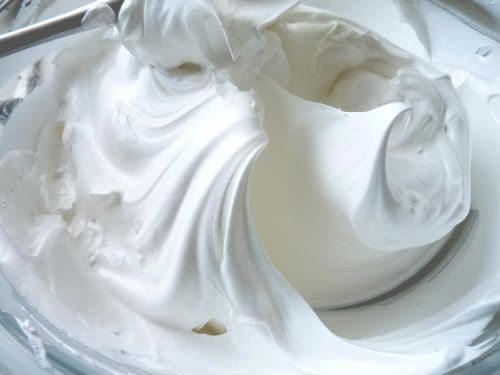 Place a piece of baking parchment on a tray and gently spoon your meringue into the centre of the sheet. Spread out into an even circle that is roughly 3 inches/8cm in height, you need to leave a little room for your meringue to spread ever so slightly. This particular pavlova does not spread a lot.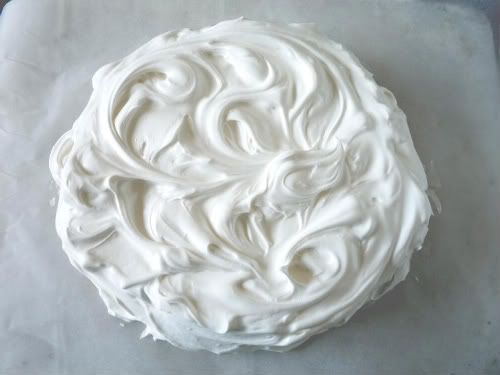 Note the split baking temperatures and times carefully
Bake at 150C/300F for 30 minutes
Turn oven temperature down and bake at 100C/210F for one hour
Turn oven off and leave the Pavlova overnight in the oven. Do not open the door until morning.
To remove your Pavlova from the tray, run an offset spatula under it or a sharp knife level with the tray and then carefully slide your Pavlova on to the plate you are going to decorate and serve it on.
This is not a small family sized Pavlova, this one will feed quite a crowd. It's best eaten the day you take it out of the oven. You may see a few cracks in your Pavlova, don't worry this is completely normal. It should look something like this.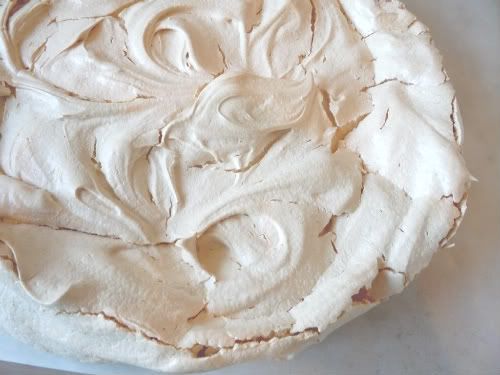 There is divided opinion on putting cream on your Pavlova in advance or putting it on just before serving. I will leave it up to you. If you put it on in advance it will soften the outside a little - many people like it this way. If you put the cream on just before serving the outside will retain it's crispness a little longer.
So I guess you are wondering what Rafale has to do with any of this?
I took the Pavlova out of the oven and put it on the bench - took a couple of photos of it without the cream on, to show all you fine people and then proceeded to get ready for work.
I came into the kitchen about 10 minutes later and looked at a little piece of Pavlova on the bench .. a very tiny piece.. " Oh I thought, I must have knocked a little bit off." Then I looked a little further and saw some blobs of Pavlova around the edge of the bench ….. the plot thickened.
Then I looked at the Pavlova, and this was what I saw
Two nice indents in the Pavlova.. then I realised that the little blobs of Pavlova on the bench were cat paw shaped. I turned around to see Raf sitting on the floor.. with Pavlova covered paws, shaking them around to get the Pavlova off … which of course only spread it further, including all over his back.
He'd jumped on to the bench and jumped up and into the Pavlova!…..
Needless to say the Pavlova required some major surgery after it's brush with Rafale, but fortunately just about anything can be rectified with a sharp knife, piles of whipped Chantilly cream and fresh summer fruit.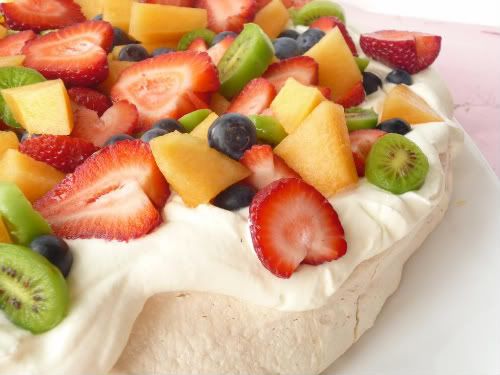 To make the Chantilly cream, put the icing sugar and vanilla into a large bowl with the cream, whip to soft peaks. Don't over whip your cream.
Distribute your fruit over the top of the pavlova, leave for no more than 15 minutes before serving.
Have a little look at the Kiwifruit on the Pavlova, they are not your usual Kiwifruit. They are Kiwiberries which are about the size of a gooseberry. They belong to the same family as a Kiwifruit - sometimes they are called Baby Kiwis - which I find somewhat disturbing; since a baby kiwi is a little bird or a young New Zealander in these parts of the world.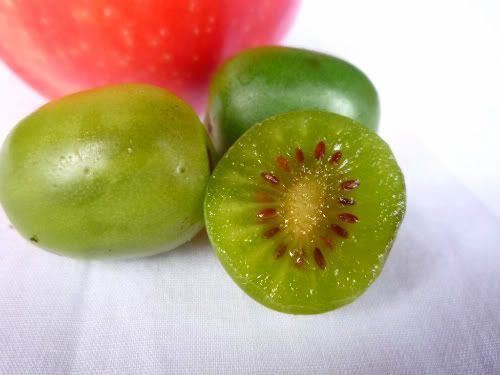 They make an interesting topping on a Pavlova mixed with other fruits and add a verdant spot of colour. That is a smallish apple you can see in the background.
Your pavlova is best eaten the day you take it out of the oven. But it will keep in a sealed bag in a sealed container in a cool place for a few days if needed. Don't keep in the fridge.
Keep out of reach of cats!