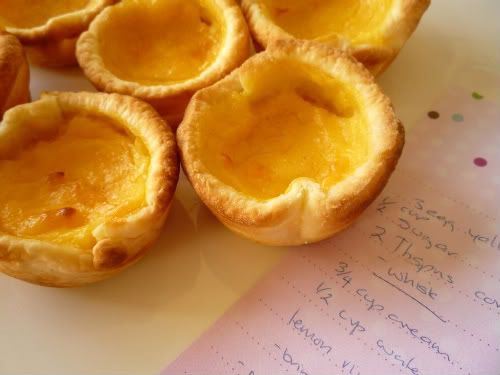 When I made the Friands yesterday, I ended up with six egg yolks that I needed to use. I know they can be frozen - but hey that's no fun! It was a good excuse to find something delicious to make. I wanted to make something a little different from the creme brulee's, hollandaise and mayonnaise that I would usually turn to. I also did not want to spend all day in the kitchen, it was a beautiful day and my last day of holidays.
I remembered Pastel de nata - Portuguese custard tarts. Real custard, flavoured with a hint of lemon baked in a flaky pastry shell to perfection. They were created by monks in Belem in Lisbon before the 18th century. The reason the monks used a lot of yolks in their pastry baking was because the whites of the eggs were in high demand for starching nun's habits and for clarifying wines like port. I thought that was really interesting!
I decided to make this a tutorial since the techniques used for the pastry are slightly different.
Portuguese Custard Tarts - Bill Granger
3 egg yolks
1/2 cup caster/superfine sugar
2 tablespoons cornflour/cornstarch
3/4 cup cream
1/2 cup water
strip of lemon rind
2 teaspoons vanilla essence
1 sheet ready-rolled butter puff pastry
Preheat the oven to hot (220 C/428 F) and grease a 12 hole (one-third cup capacity) muffin pan.
Place egg yolks, sugar and cornflour in a medium saucepan and whisk them until combined. Gradually whisk in the cream and water until smooth.
Add the lemon rind and stir over a medium heat until the mixture just comes to the boil. Remove from the heat immediately; remove rind and stir in the essence.
At this point your mixture looks like this

I used a whisk once I had removed it from the heat to help smooth any lumps out. It was really hard not to just eat the custard on it's own!
Cut the pastry sheet in half. Remove the plastic and stack the two halves on top of each other. Stand about five minutes or until thawed. Roll the pastry up tightly from the short side then cut the log into 12 x 1 cm rounds.
I used two sheets of pre-rolled pastry instead of the one. Mine have a slightly thicker crust. I actually did not mean to, I mis-read the recipe. But they worked out well and I did not have to deal with any holes in the pastry.
Then I marked out the roll of pastry with a knife, and used a piece of thread to cut through cleanly on the knife marks.
Once you've sliced your pastry - it looks like this.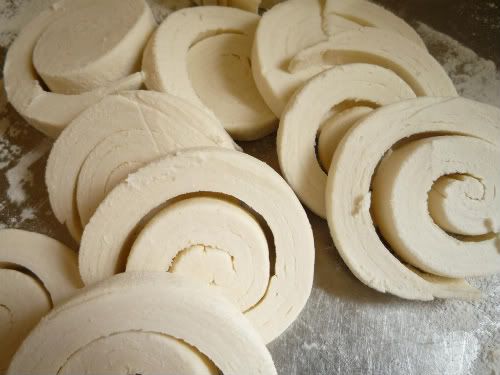 I thought these looked so neat, like little pastry snail shells on my bench. They did come apart a little as you can see, but pressing the ends back in seemed to work just fine.
Lay pastry, cut side up, on a lightly floured board and roll each round out to about 10cm. Press rounds into the prepared muffin pans with your fingers. Spoon the custard into the pastry cases.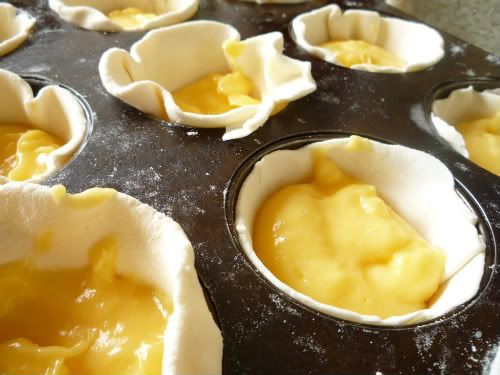 Don't worry if your pastry is a little taller than the top of the muffin pan edge. The pastry shrinks a little as it cooks and the custard puffs up in the oven. The custard drops back down as it cools, which is how you get that coating of custard on the sides of the tart.
You can sprinkle a little cinnamon sugar on the tops about half way through cooking which aids in getting some nice little brown spots on your tarts. Cinnamon sugar is a common topping on the tarts.
Bake the tarts for about 20 minutes or until they have some brown speckles on them. Transfer them to a wire rack to cool.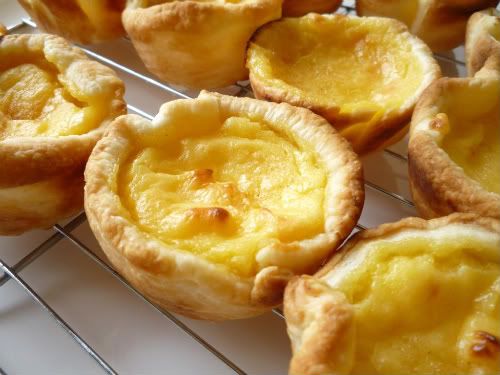 They were not difficult to make and they were really a lovely little mouthful. A slightly rustic looking pastry with a sunny charm. They are best eaten the day they are made and just wonderful straight from the oven.