It's spring! It's Official - Official since the beginning of September in fact. It snowed this month. Let me repeat that. It SNOWED. I've been thinking about making some nice hot weather dishes, but first the hot weather has to arrive. NZ is well known for it's four seasons in one day and we've certainly been experiencing that recently. My blog may have a little less food and a little more of other stuff over the next few months but variety is the spice of life right?!
The spring flowers are coming up in the garden. I'm looking forward to some blogging with the advent of the warm weather and the sun.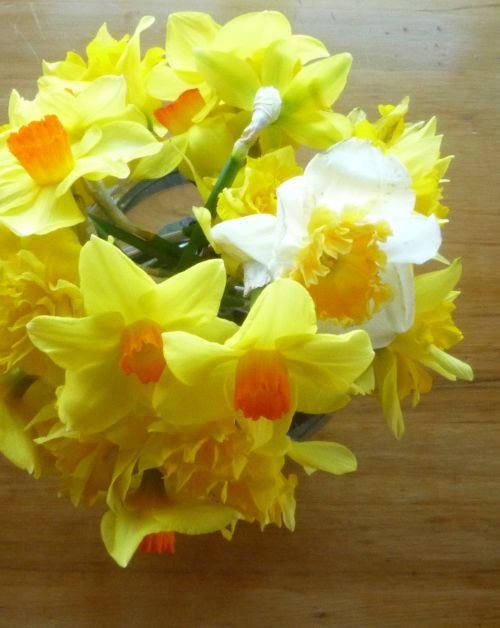 Cheerful aren't they? They are a bit blurry though since I have discovered my camera lens is covered in something .. most likely flour I suspect. Either that or my eyes are worse than I thought.
If you can tolerate some slightly fuzzy photos (until I take my camera to the shop) I have some things to share with you. I've been keeping myself busy over winter.
I tried making linocuts. I remembered making these at school and had vague fond memories of them. Kit gave me some lino cutting tools for my birthday this year, so I gave it a go. I really enjoyed watching the lino curl away from the tool. The results are very amateur - but it was a remarkably satisfying process.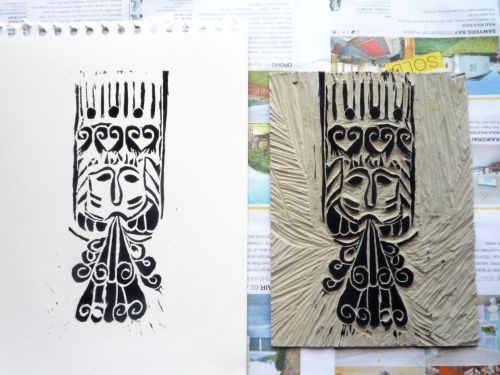 This is my Nordic God of storms. He was so attached to his wife, that every time she went away he was so upset that he created huge storms. He's a detail from the Tnjum stave church in Norway.
This was an attempt at a town - where I discovered that it's very hard to carve small details into the lino without it chipping. It is a multimedia lino cut. I have some other large pieces of lino that are just waiting for some inspiration.
I've been turning Isaac's head into a garden for Funky Friday at school.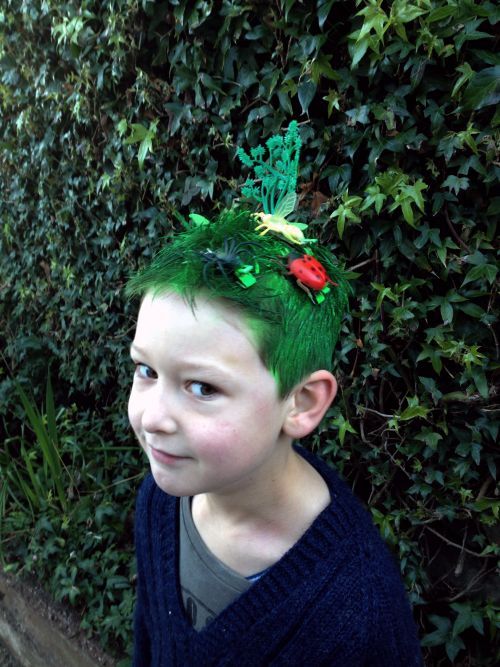 I've also helped my husband gain about a kilo over winter by baking this delicious pumpkin seed bread. Actually it's just the no knead recipe that you see all over the internet but I like to add in pumpkin seeds - good for your prostate if you have one. Which I don't .. because well I don't. I also like to add in whole linseed aka flaxseed.
Check it out!
Yes I am afraid this delicious bread is the reason for my husbands extra kg. Now he's on a low carb regime…. So I guess I am going to be posting some low carb recipes soon for those of you that are into that kind of thing, which I'm not, but he is. I'm trying to see this low carb thing as yet another cooking adventure and one that I am going to try to balance out with my own dietary requirements which of course include intermittent helpings of cake.
For those of you that enjoy wonderful slightly moist bread with a nice hard crust - this is the bread you have been waiting for.
For those of you that like to make bread without kneading it - this is the bread you have been waiting for.
For those of you that like to impress your friends with little or no effort - this is the bread you have been waiting for.
I'm sure you get the picture.
Pumpkin Seed No Knead Bread
Note: This needs to rise overnight - make sure you make the dough the day before you want the bread and allow 30 minutes rising time and 45 minutes cook time the following day.
I generally have enough time to bake this bread before work in the morning if I have prepared the dough the night before.
In a large bowl place:
3 cups of flour
1/4 tspn instant yeast
1/2 tspn salt
1/2 tspn sugar
1/2 cup of pumpkin seeds
1/4 cup of whole linseeds
Mix with a knife then add:
1 1/2 cups of tepid water
Mix
Cover the bowl with some plastic wrap or a tea towel and leave to sit at room temperature for 12-18 hours.
The next day
Stir your dough and place in a warm place for 30 minutes to rise.
Preheat your oven to 220C/428F and place the dish that you are going to bake your bread in in the oven also. I use a cast iron dutch oven with a lid for my bread, but I have also just used a standard loaf pan with foil tented over it. The shape of your container will effect the shape of your finished loaf.
Also place an oven proof dish filled with water in the oven to create a nice steamy environment for your bread, this helps give a nice crust.
After 30 minutes tip your dough into your preheated container, dust with flour and cover (with a lid or tented foil - make sure it is not actually touching your bread and your bread has enough room to rise).
Cook for 30 minutes with the lid on.
After 30 minutes remove the lid or foil and cook uncovered for 15 minutes.
Cool on a rack before slicing. Done.
Actual hands on time for the bread is minimal, while it's cooking/rising etc in the morning I can get ready for work.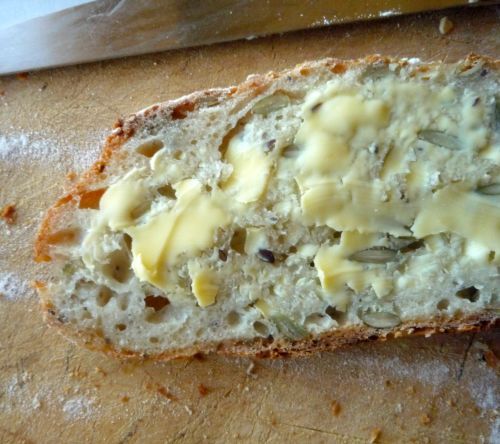 It does make good toast the next day if for some reason you don't devour all at once. For those of you just coming into winter this bread might just be the thing that makes the days seem a little more cosy. I take no responsibility for any weight gained!
I have to say it's good to be back, it seems like it's been a very long winter this year. I'm going to try to get the blog revamped a little over the summer as well - perhaps I can exchange some web work for some low carb cooking.
I'm looking forward to hearing what you've all been up to.