I've had my vegetable garden almost completely planted for a couple of weeks now. One of the first things that went in for the spring was radishes. I love these little bright peppery mouthfuls. The packets of seeds that have the multi-coloured radishes on the front always pull me in. Isaac and Kit planted them in neat little rows in the corner of the vege garden.
As a teen I remember my Aunt Grace cutting radishes into flowers and serving them ice cold with a light sprinkle of salt, they were always in the centre of the table, little red globes with the red skin bleeding into the white ever so slightly. I tried hard to remember my manners and not eat the whole bowl full. I'm pretty sure I failed.
My love affair with radishes started with my grandfathers garden. He would pull one out of the ground, wipe it clean on his trousers and hand it to me. Any last remaining bits of earth were cleaned off by me until the radish was red and shiny. It would be gone in a flash and I'd be sneaking the next one out of the garden. There is nothing quite like a radish straight from the garden. Except maybe a strawberry warm from the sun, or perhaps mouth puckering gooseberries that are not quite ripe, or maybe fresh little baby peas right from the pod.. well you get the idea. Fruit and vegetables freshly picked are da'bomb!
If you don't have a garden there is no excuse for not growing radishes. They'll grow very happily in a large pot. They don't take much room and they grow very fast. Kids love to grow and eat these, as long as you don't choose a very spicy variety. Having said that, Isaac hates them, I'm not sure what he has against these little beauties, but there you go, some children cannot be pleased!
Radishes are best simple and fresh, I've never understood why anyone would want to cook one, they are perfect raw. This is hardly a recipe, more of a suggestion really. Grow radishes, eat them. I made a mixed salad with lettuce, cucumber, a handful of baby spinach leaves, fresh mint and radishes and poured a delicious dressing over the top to make it something special.
It's not a strongly flavoured dressing despite the potent sounding ingredients, the garlic is roasted so it's quite gentle and the mustard is lightly peppery - not over-powering at all. Horopito is also sometimes called the pepper tree.
When I was little we had a Horopito hedge next to our house, we used to chew on the leaves. I'm sure Mum would not have been happy about that if she'd known. I'm afraid I was notorious for eating things that I should not have, and doing things like putting peas up my nose… sigh.. there has to be one in every family - and in our family, unfortunately it was me. If I see a Horopito tree now, I can't help but pull off a leaf and chew it. The first time Kit saw me pull a leaf off someone's hedge and eat it I think he really started to wonder what kind of woman he'd married. If you cannot get Horopito Mustard any mild and peppery mustard will substitute. You will miss out on the subtle herbiness of the horopito though. Horopito Mustard is made by MustardMakers in Puhoi, it's really lovely to see such a great local product. You can order it via email or phone from their website.
Honey, Garlic and Horopito Mustard Dressing
1/3 cup of olive oil
2 cloves of roasted garlic
1 tspn honey
1 tspn Horopito Mustard (or other mild mustard)
2-3 Tblspns white wine vinegar
salt and pepper to taste
Place everything but the oil into the food processor and give it a quick whizz to blend.
Add in the oil in a steady stream. If your dressing looks a little thick thin it down with either more vinegar or a little water.
Taste - adjust seasonings if needed.
Drizzle over salads.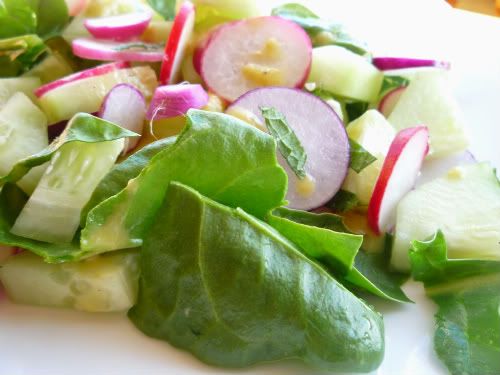 Interesting Radish facts:
Did you know you can get Black Radishes?
Radishes have as much potassium as bananas
They are an excellent source of vitamin C and folate
Radishes were first cultivated in China.
Radishes are 90% water
The heaviest radish was 45 kgs/100 pounds - it was recorded in 1544
Radishes are thought to be good for digestion, are high in fibre and are thought to be anti-carcinogenic
All that packed into a brightly coloured bundle, love 'em.
Disclaimer: Mustardmakers have had nothing to do with the promotion of the Horopito mustard on this blog, I just happen to love their product.