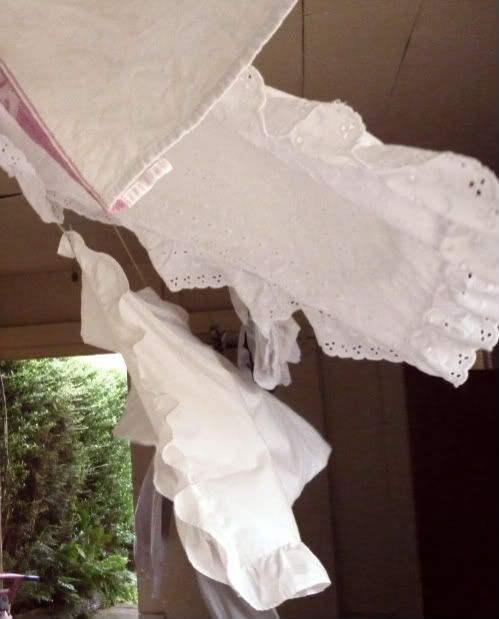 Today was a blustery day indeed. It felt like Autumn was really here. The leaves swirled around my feet as I went to get the laundry off the line outside and the wind blew my hair into my eyes. It was cold!
As usual on a Saturday morning I went down to the farmers'
market (keeping in mind that I was going to start the croissant today for Nancy) and I decided I would not buy too much, since I had other things planned for the day.
I met a friend at the market, who had a surprise box of laid this
morning free range eggs from her chooks and a lovely little pot of plum jelly for me! We sauntered around the stalls - getting buffeted by the wind. There was so much wonderful produce to choose from it was difficult to come away with a small bag, but with the iron will that I have, I left with two large, completely bulging bags of beautiful late summer produce.
I unloaded the contents on to the bench and made myself and Kit a steaming hot cup of tea while I surveyed my purchases.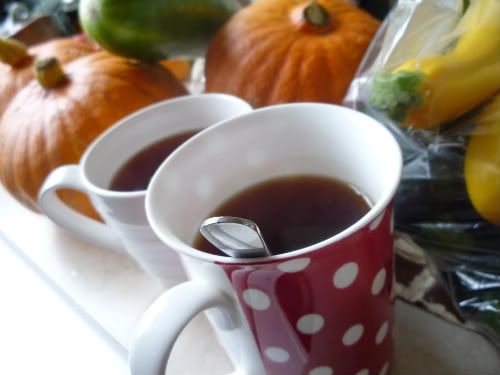 Tomatoes, peppers in all colours, cucumber, garlic, bushfire pumpkins, spring onions, beetroot, broccoli, basil, cos lettuce, strawberries that are amazingly sweet, and colourful zucchini. My favourite find for the day was a beautiful olive oil grown here in Otago by Cairnmuire, infused with the thyme that grows around the olive trees. Peppery and golden with hints of thyme. Just superb.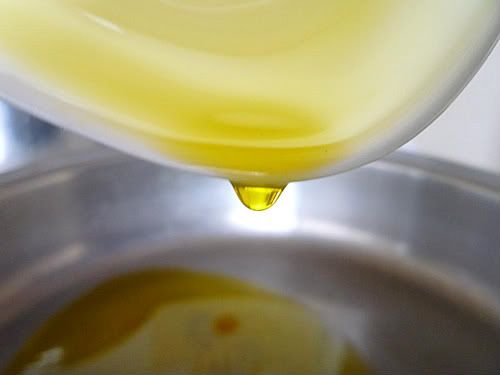 A few things stood out as a really classic combination, eggplant, tomatoes, zucchini, garlic, onions, thyme and olive oil - together they create Ratatouille. This is most likely going to be my last chance to make this beautiful dish this summer, since really autumn is here and it won't be long till pears, plums, pumpkins, chillies and apples fill the markets with different taste combinations to explore, and the fresh herbs have all gone into hibernation for the winter.
I've gone with Thomas Keller's version which is layered and fanned out beautifully. It looks like candy when it's all put together before it's cooked and the smell and taste .. so, so, so, very, very good. It melts in your mouth and the flavours are just a perfect combination. The vinaigrette and a big loaf of crusty bread as an accompaniment are compulsory. If you have never had Ratatouille try this - you will just love it.
Ratatouille - Confit Byaldi
I'm not going to post the entire recipe, since I have not deviated from Thomas Keller's recipe. The only thing I changed was to make a double quantity, since I knew I was going to be feeding several hungry people. Next time however I would make more of the vinaigrette. We found ourselves sopping up the last little morsels of vinaigrette on the bread we had with it, so we did not miss a drop.
It does take a long time to cook. So do start it well in advance. The recipe is on the NY times website, along with a really interesting post about the movie and Thomas Keller's hand in consulting for it. I thought I would give you a few photos to help you on the way to making it though. It really is worth every moment spent.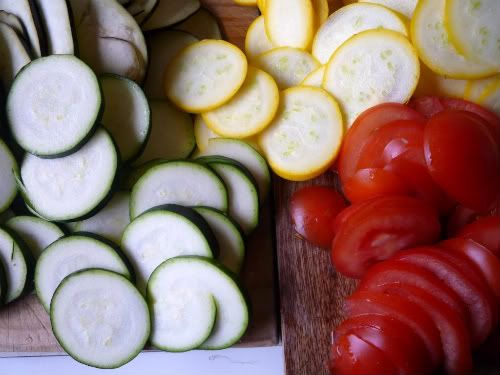 Slice all your ingredients the same thickness and try to choose vegetables that have roughly the same diameter, it makes it easier when you are trying to layer them nicely. I could not get Japanese eggplant - so I had to settle for some that were slightly fatter at one end.
While you are roasting your peppers for your piperade you can begin the rest of the sauce ingredients. I chose to make mine a little chunkier, so it had a nice rustic feel to it.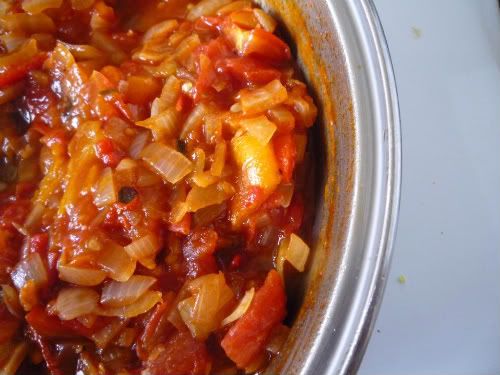 When your piperade is made then you start to layer your vegetables on the top.
The vegetables reminded me of Licorice Allsorts.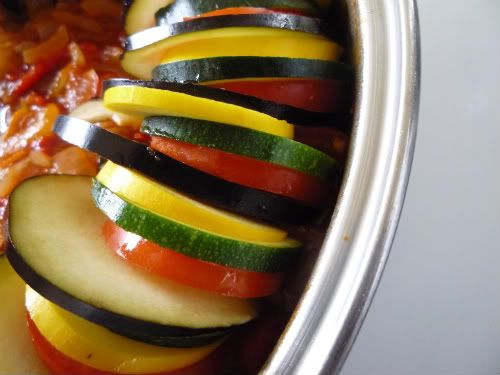 Once you have them all snuggled into the pan and topped off with a little more flavour - they get covered in foil and put into the oven for long, slow cooking, which gives that silky melt in the mouth texture to the vegetables.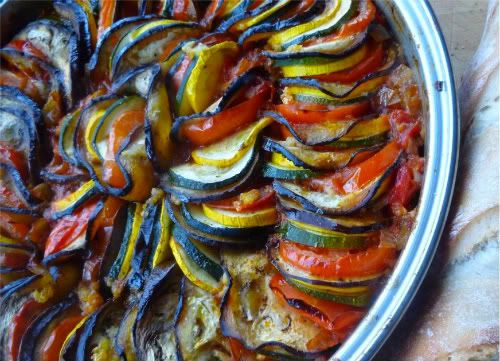 The juice from the vegetables seeps down and into the piperade
We loved this version of Ratatouille - it really was worth the extra effort to make it this way. It can be eaten cold or hot - we had ours hot to try to ward off the autumn chill that was in the air today. Although there are some things I will miss about the summer, like Ratatouille, I am looking forward to the new seasons produce and all the recipes that I will be able to resurrect with the Autumn.
P.S Keep your fingers crossed for my croissant!