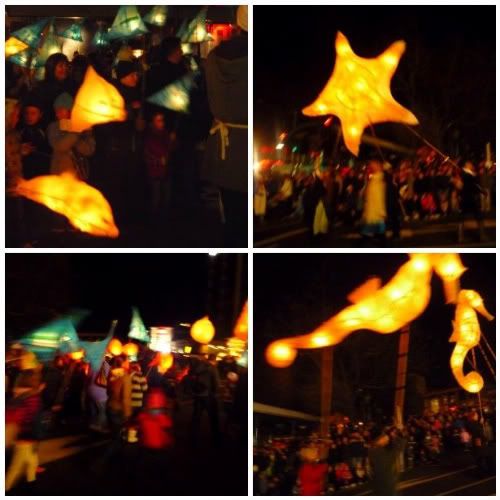 I have so many things I want to tell you about today, so you'd better grab a coffee before you start reading, get comfortable, put your feet up, and try to imagine a chilly winter's day in the south of the South Island in New Zealand. If you live here you won't have to try hard at all! The leaves have mostly fallen from the trees except for a few stubborn ones that won't stop clinging, and the mornings and evenings are so cold you can see your breath. It's mid winter and it really feels like it.
Last week my darling Leah turned 22 years old! Two days later it was my birthday and I turned .. well I got older! We delayed our birthday dinner until the weekend until we had more time to make a nice meal to share.
It just so happens that Kit gave me a pasta machine for my birthday, I told him not to buy it for me, but he went ahead and did it anyway. Not that I am complaining too much! It turns out a pasta machine is a gift for everyone, even small boys! Isaac could not wait to pull all the bits out of the box and try to assemble it.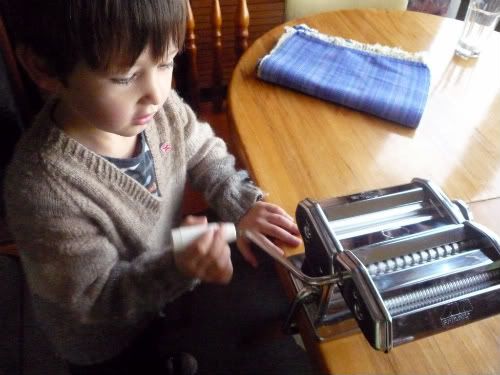 Pasta for the birthday dinner at the weekend was a must of course! Ravioli, three different varieties. Butternut and Almond, Mushroom and Ham, and Spinach and Feta. It was only when I thought about it that I realised that I would be making ravioli for seven people. That's a LOT of ravioli to make. Then was reminded of those lovely Italian grandmothers making ravioli for their families and knew if they could do it, I could do it too.
The plan for Saturday was to spend the day making pasta and to have it all ready to cook while we went down to the Mid Winter Carnival Lantern Festival. Next year perhaps we will be organised enough to make a lantern to carry.
Leah and I started to make the pasta fillings and the dough, with Isaac doing his best to assemble the pasta machine and turn the handle on the crank as fast as he could. He's been completely fascinated with it since he first peeked in the box.
We had to work on the table, since my bench space in the kitchen is not that great, and we needed plenty of room to move and spread out those beautiful ribbons of pasta dough.
Leah is wearing a superfast hat that I made that I'll share with you in another post
After a few minor hiccups - dough sticking to the table, dough too sticky, too much filling, pasta bike not cutting, air bubbles, and Isaac turning the handle in the opposite direction half way through rolling a sheet and cat jumping on the table we finally felt we had the technique perfected. I have a whole new respect for those Italian grandmothers I can tell you!
We turned out wonderful silky lengths of pasta, cut, filled and carefully dusted so they would not stick, before long we had a big pile of plump ravioli ready to be dropped into bubbling water when we got home.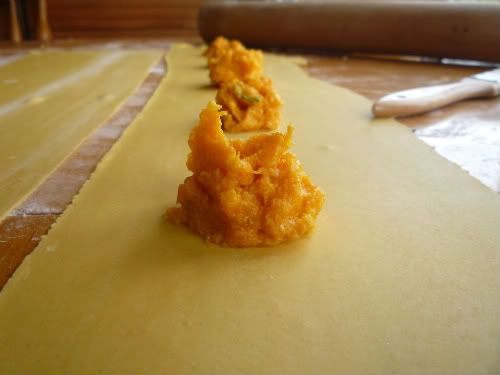 If you've never made pasta at home before you will honestly wonder why you haven't before. It's so simple. You do need to take a little time for rolling and shaping your pasta, but really, there is nothing quite as satisfying as seeing a pile of homemade pasta and the velvety texture is nothing like pasta you would buy in a shop. Besides I think it's fun!
I've given you two methods here for mixing the dough, food processor and by hand. Apologies there is no "cooked" photo it was way too dark by then, but I assure you they were excellent!
Basic Pasta
Serves 6-8
500 grams of flour (Tipo 00 if you can manage it - this is very fine ground flour but all purpose is ok to use.)
5 free range eggs
semolina flour for dusting
The ratio is 100 grams of flour to one large egg.
Variation:
If you wish to make a butternut or spinach flavoured pasta omit two eggs and replace with pured butternut or spinach in the same amount. Cooked and pureed beetroot works well also. We coloured our butternut and almond ravioli dough with butternut, so it is a little more orange than the others. Make sure if you are adding pured vegetables to the dough that as much moisture as possible has been removed from the veges. If you find your dough a little wet, add more flour.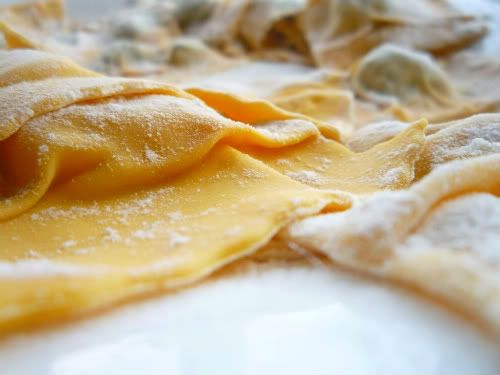 This is the butternut pasta dough above, it was the most beautiful rich golden colour.
Method: Mixing by hand
Place the flour on the bench top in a mound, make a well in the centre - crack your eggs into the well.
Stir with a fork initially to combine your eggs into the flour slowly mixing in a circle towards the outside, once your dough starts to form switch to using your hands to bring in the remaining flour and knead gently until your dough comes together into a smooth dough that is not sticky.
Use additional flour if needed. Wrap in cling wrap and place in the fridge to chill for one hour.
Method: Food Processor
Place all ingredients into a food processor, pulse until it comes together into a ball of dough.
Remove and knead gently by hand for a few moments, ensuring your dough is not sticky and using additional flour if needed.
Wrap in cling wrap and place in the fridge for one hour to chill.
Now that you have your dough you can either roll it by hand or you can use your brand new pasta machine that your husband gave you to roll it out.
There are various methods for filling and making ravioli we decided to do it this way, which on reflection was perhaps not the best method, since there was a lot of dough wasted, but it did work.
Roll out a strip of pasta dough to about 1.5 mm thick and about 14 cm wide Cut it in half down the centre - longways to make two strips 7 cm wide each.
note: For larger sized ravioli do not cut down the centre, you will need to roll out an identical piece.
Place teaspoonfuls of your filling on one half at regular intervals along the dough.
Brush the dough around the filling with a little water and then place the other strip dough carefully over the top pressing from the edge of the filling in an outwards direction so that you do not trap air bubbles in your filling and sealing your ravioli.
Cut your ravioli to size, ensuring there are no holes in your pasta.
Dust lightly with semolina flour to stop from sticking to each other.
You can cook them at this point or freeze them. They will be fine covered in the fridge for a couple of hours also.
Butternut, Almond & Sage
1 medium butternut - roasted, flesh scooped out and drained.
75 grams ground almonds
4-5 fresh sage leaves finely chopped (or 1/2 tspn dried sage)
freshly grated nutmeg to taste
salt and pepper to taste
Mix all together
Spinach and Feta
400 grams of Fresh spinach - steamed, drained and all moisture pressed out.
100 grams Feta cheese patted dry and crumbled
Mix all together - this is enough for half a batch of dough, double the quantity if you wish to make the whole batch the same flavour.
Mushroom and Ham
200 grams finely chopped mushrooms
half a small onion finely chopped
2 Tbspns sherry
50 grams of ham finely chopped
salt and pepper to taste
Cook all together until most moisture is gone and drain in a sieve. May use a few breadcrumbs to bind if you wish. This quantity is enough for half a batch of dough - double it if you wish to make the whole batch the same flavour.
Serve your ravioli with a sauce that compliments your choice of filling. We had a classic Alfredo sauce with the fillings above since it worked well with all of them.
We made ours various sizes and shapes, depending on the filling so people could choose the ravioli they wanted easily.
One tray of finished ravioli, organised by type by Isaac. You can see they are less than perfect in shape, but as long as they don't have holes in them and no air bubbles, they will be just fine.
Once we'd assembled the ravioli we set out for the Octagon to watch the Lantern Festival and fireworks. I really want to share this with you, Isaac loved it. One of the joys of being a parent is getting to see your children look in absolute wonder at things they are seeing for the first time.
The trees in the Octagon (our town centre) were all strung with fairy lights, set up in the centre there was a small stage with a band playing. There were waffles, sausages and hot coffee for sale close by, the aroma's mingling and wafting slowly in the still night. The roads were all blocked off, small children ran around slightly terrified and excited about being out, in the dark and walking on the road!
The photos are all somewhat blurry because of the movement of the lanterns as people walked and danced along, but I like them, they convey a sense of action and movement in the dark. The lanterns are all made from tissue paper, cane and glue. They are lit from the inside with candles which flicker and jump in the dark. The theme this year was the ocean.
Stilt walkers were dressed as hermit crabs (at least that's what I thought they were!) Drummers with little hats like sea anemones and dancers a swirl of colour.
Giant shells and pointed strands of seaweed marched past, bobbing in the dark.
For something that is just made from tissue and cane, they look pretty amazing.
Seahorses drifted past, starfish, blue waves emerged and small children and adults wrapped up warmly walked along with dolphins bobbing on the end of sticks. In the dark it looked like they might be swimming through the air.
Fireworks boomed and made Isaac laugh loudly with genuine excitement as we walked up the hill to the car. Then it was home with cold noses and fingers to warm up with piping hot ravioli, thick chunks of sweet rye bread, green salad and old fashioned Lime Pie for dessert.
Happy mid year everyone!