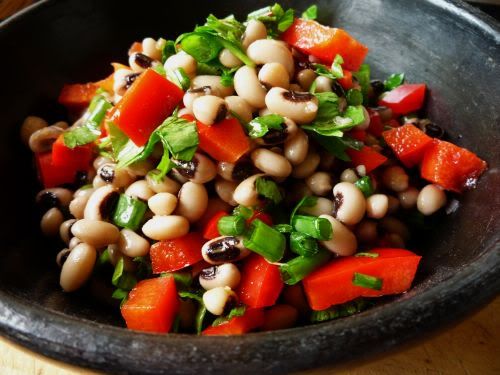 I should have been giving you a nice Christmas recipe a few days ago, right? I planned to, but you see this lovely large bowl of Texas Caviar muscled it's way to the top of my must cook list and I wanted to share it with all of you. I really do fail dismally at giving you all holiday appropriate food. I cooked plenty of it though and I have some photos to share. I'll leave that for another day. It seems to be a habit of mine sharing seasonal food out of season. But this Texas Caviar is supposed to be good luck for New Years - so you'd better get on to it! The year is running out.
Ambling through the supermarket I spied a small container of little cream coloured dried beans with black dots on them. The label said "Black Eyed Beans". I can't help it, as soon as I see something I am unfamiliar with I buy it. So the little pottle was duly placed into the trolley and tucked into the pantry when I arrived home. After looking them up on Wikipedia I discovered that the beans were also known as Black Eyed Peas or cowpeas. In the US I know these are common, particularly in the southern states where they are used in all manner of dishes, here in NZ they are not well known at all.
They have an interesting history these little peas/beans. Thought to be originally from the African continent; arriving in the US with the slave trade. George Washington encouraged people to grow cowpeas because they were good for the soil and had high nutritional value. They are included in all kinds of southern dishes and at certain times in history they were a staple part of the diet along with corn.
There is a folk tradition around these beans that they are good luck to eat at new years and will bring prosperity. No one is really sure how the tradition originated, with several theories around, but however it started it seems to have stuck. I think these are too delicious to just eat at new years though.
This colourful dish can be eaten as a side or teamed up with corn chips as a salsa. Best eaten the day after it's made when the flavours have had time to develop.
Texas Caviar
You can use canned or soaked/cooked dried beans for this. I prefer the dried because they have a little more texture and I don't like soggy beans.
2 cups of cooked black eyed beans (canned or dried)
1 large red pepper diced
1/2 cup of parsley or coriander chopped
1 red onion finely sliced (or 3 green spring onions)
3-4 Jalapeos finely diced - seeds removed
1 finely diced Serrano chilli
2 finely diced tomatoes (optional)
Dressing:
2 fat cloves of garlic minced
1/4 cup of olive oil
1/4 cup of red wine vinegar
1/2 tspn ground cumin
salt and pepper to taste
If you are using dried beans soak them overnight in water. Drain, cover in fresh water in a saucepan and then cook them over a medium heat before you want to use them. They take roughly 45 minutes to an hour to cook - don't overcook them.
Once they have soaked they will have plumped up nicely and look like this.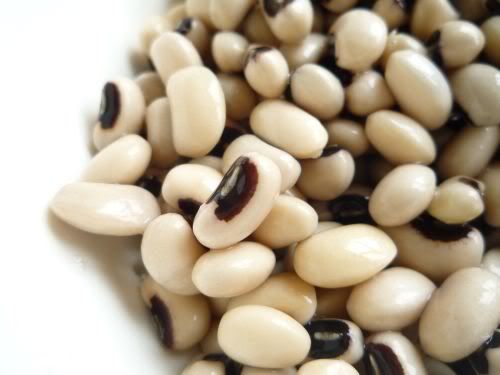 Mix all your dressing ingredients in a bowl and whisk to combine - set aside.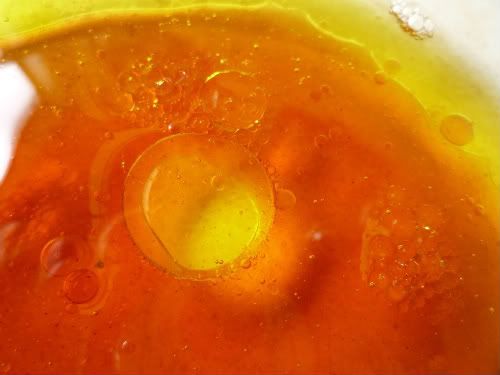 I could not resist taking a photo of the oil and vinegar, it's so pretty really if you are into looking at food closely.. which I guess I am!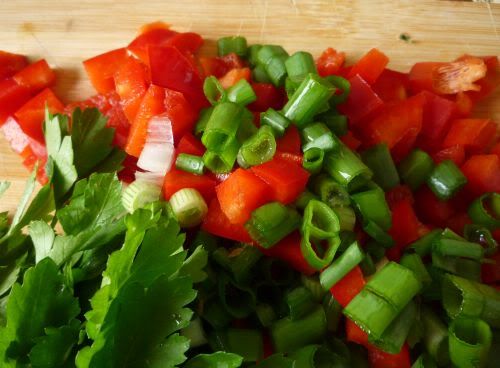 Mix all your other ingredients, including your cooked or canned black eyed peas in a medium sized bowl - pour your dressing over the top and then place in the fridge to chill. This is better after a day or so marinading in it's dressing. I popped mine in the fridge overnight and gave it couple of stirs.
I've never been to Texas, but I can tell you these Texas folk have this one right - a perfect combination.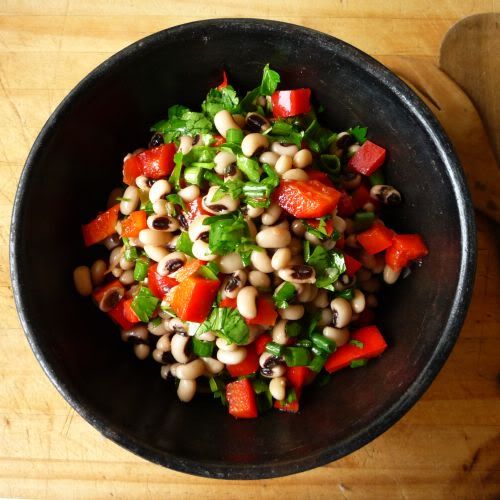 Looking back over the past year of my life I want to say thank you all for joining me on my blog - I could not keep this blog going without you all. Your readership and comments have helped me through a very tough time in my life. A special thank you to Bizy, Eddy and Heather who always just seemed to know when I really needed a positive comment. Wishing you all a Happy New Year and good things to come for you and for your families.
For your interest: When I was writing this post I noticed that the word "pottle" was showing up with a red underline, indicating a spelling error. Quite sure that I was correct I looked it up in a dictionary. I discovered at this point that the word "pottle" is only used in New Zealand in this context! I did not realise this was a word that was only commonly used in NZ. I'd be interested to know if it's in common usage in other countries.