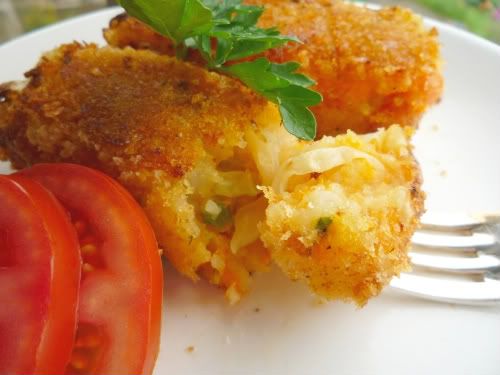 This is one of the best and tastiest ways to use up left over potatoes that I know of. These simple little croquettes (from the french croquer which means to crunch) are leftovers in the guise of a golden crumbed cylinder that no one will turn their nose up at.
I served them with Chipotle mayonnaise for big people and tomato ketchup for little people. Paired with a salad they make a nice vegetarian meal. I pan fried this batch, but there is no reason why they could not be baked in the oven for a lighter version.
Vegetable Croquettes
6-8 cooked potatoes
4-medium cooked carrots
1 onion chopped
3-4 cups of cabbage chopped
1 egg
1/2 cup of cheddar or other flavoursome cheese
1 tspn garlic seasoning salt (or 1 tspn crushed garlic)
2 Tblspns fresh parsley chopped finely
pepper to taste
fresh breadcrumbs to coat (roughly 3 cups)
Oil for shallow frying
In this particular batch I also had a couple of roasted parsnips that were mashed and added in.
Lightly cook your onions and cabbage in a pan until your onions are transparent and your cabbage wilted.
Mash your potatoes and carrots (and any other leftover vegetables e.g parsnip, sweet potato) together with the garlic seasoning salt and add in your cooked onions and cabbage, parsley and cheese.Taste for seasoning and add pepper and additional salt if you wish.
Lightly beat the egg in a small bowl and set aside.
Shape the mixture into a croquette like a small sausage and dip in the beaten egg then roll in the breadcrumbs to coat.
Place in a pan and lightly pan fry over a medium heat until golden on the outside and warmed through. Or spray a baking sheet lightly with cooking spray and oven bake until golden.
For a vegan version simply omit the egg and cheese - they will still be tasty just a little more fragile. Quantities of the vegetables are flexible as long as you have enough potato to hold the mix together. If your potatoes are quite floury in texture, you might need to add some breadcrumbs into the actual mix to help bind it. Don't be afraid to taste and add your own touches to this.
Leftovers never looked or tasted so good.