I was given a gift of some wild salmon, that had been home smoked over Manuka. This gives the fish the most wonderful flavour that is indescribable. The aroma of the salmon upon opening the paper package was just heavenly! My Uncle caught this salmon in a South Island river here in New Zealand. Much paler in colour and stronger in flavour than it's farmed counterpart, it's a wonderful treat.
I decided to make some Salmon fish cakes with half of this lovely fish: one side would be enough to make fish cakes for 6 of us. I'll make something else delicious with the other half of the salmon. Fish cakes can seem a little fiddly if you have not made them before, but if you compare the home made version to the store bought product there is no comparison, they are like night and day.
I know that since it's unlikely that you will have a gift of wild salmon turn up on your doorstep, bought farmed salmon is fine, or other medium fleshed fish (in NZ Hoki or cod is nice - smoked, even better) and if you are on a tight budget even a couple of cans of salmon or tuna will still turn out a pretty good fish cake. The quantities given are somewhat flexible, so feel free to make adjustments depending on what you have available and how many people you are feeding.
Wild Manuka Smoked Salmon Cakes
6-8 medium floury potatoes - peeled and cut into small chunks
1 Tblspn butter
2 Tbspns fresh parsley - chopped
3 spring onions chopped
one medium side of hot smoked salmon - flaked and checked for bones
salt and pepper to taste.
2 eggs
3 Tbspn of Milk
4-5 cups of fresh breadcrumbs ( white or wholemeal)
Oil for shallow frying or cooking spray if you are baking.
This is a very simple recipe, but when you are using a fish with a beautiful flavour you don't want to overshadow that with a lot of additional seasoning's.
First flake your fish into a bowl and double check for bones along the way.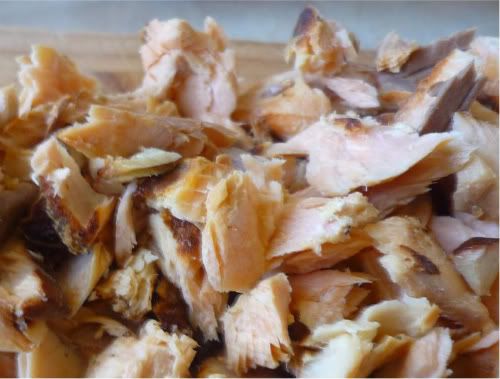 Please excuse the slightly fuzzy photo - not sure what happened there!
Cook your potatoes at the same time. If you cut them into smaller chunks they will cook faster and mash more easily. When they are all soft add the butter, salt and pepper to taste and mash until smooth and creamy. Don't add milk or cream to the mash, (unless your potatoes look really dry) or your fish cakes will be too sloppy.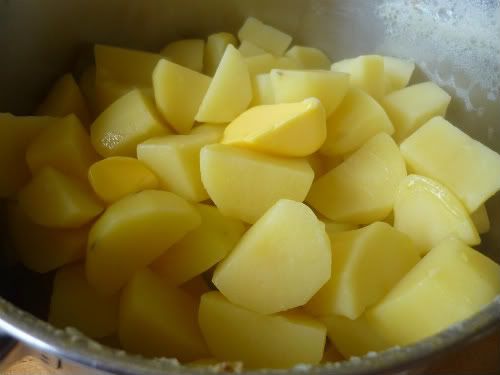 Once mashed - add in your parsley
I just want to share with you another low tech kitchen gadget that I love. I am not generally big on gadgets in the kitchen and I rarely even use a mixer; I like to do things by hand.
This little gem is terrific for chopping garlic and herbs: it keeps them all in one spot and does a great job of chopping them finely. It's a Mezzaluna, which means half moon.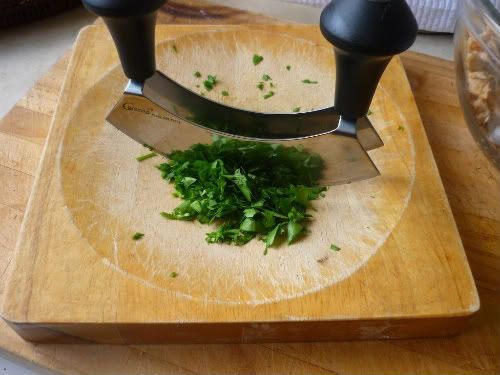 Add in your chopped spring onions and flaked fish, mix gently and add more salt and pepper if needed.
Now, set up a bit of an assembly line, first with your fish cake mixture, then your two eggs beaten lightly with the milk, and then your breadcrumbs, followed by an empty plate to put your finished fish cakes on.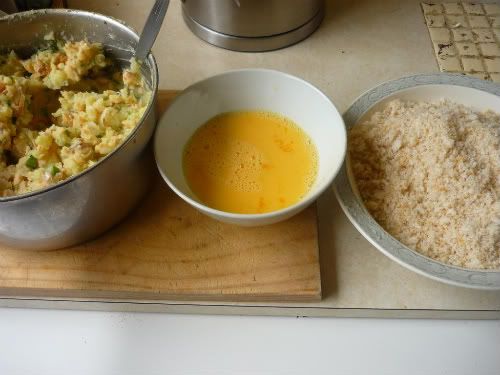 You can adjust the size of the fish cakes: make smaller ones for an appetiser size, or larger ones for giant appetites - I tend to make mine
about 6-7 cm across and about 2.5 cm thick (2 1/2- 3 inches x 1 inch).
Take a largish spoon and place a spoonful of the mixture in your hand - shape into a rough ball. Your hands will end up good and mucky - but hey, lets call it a tactile experience. Please excuse the Bournvita in the background. (btw sorry UK people that you can't get Bournvita any more - you'll just have to come to NZ)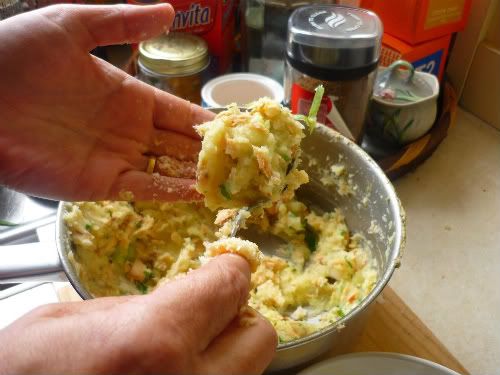 Dip gently in the egg to coat and into the breadcrumbs and shape gently into an evenly sized patty.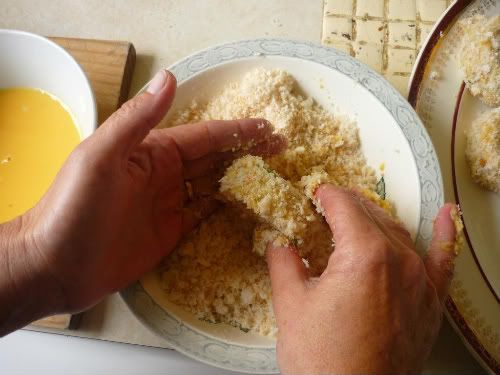 You should end up with a plate looking like this!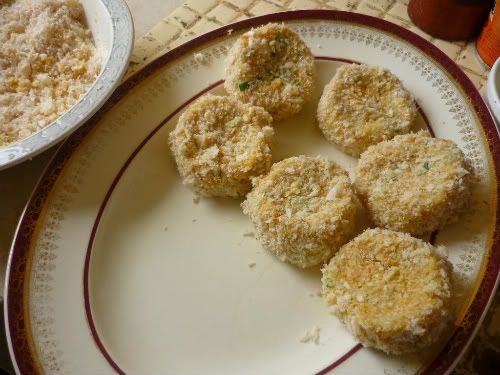 You should get roughly 16-18 fish cakes of this size.
Either shallow fry gently trying to turn only once, or bake in the oven on a lightly greased tray. If you choose to shallow fry, you do not need a lot of oil, just enough to stop them sticking to the pan.
Keep them warm until you have cooked the whole batch.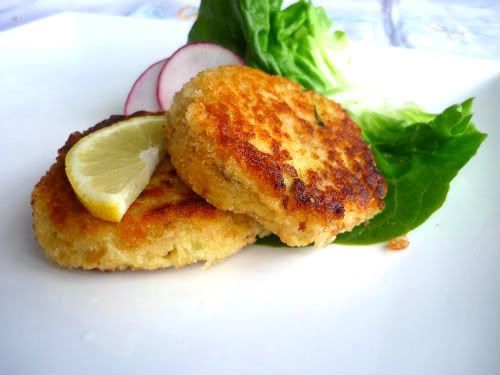 YUM!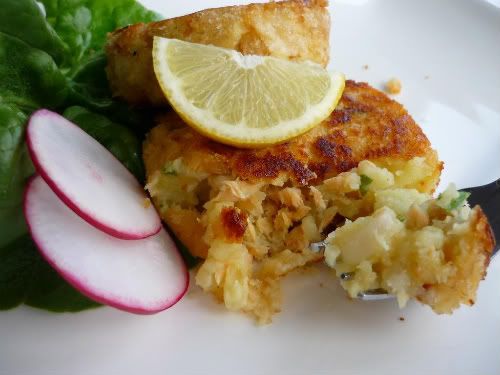 These were served with a chunky green salad and slices of lemon.
Thank you Uncle Richard - just delicious, such a treat.